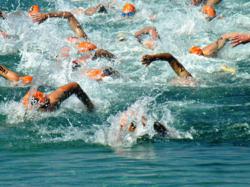 Suunto Ambit 2S is a much more attractive watch, thinner, lighter and can even be used as an everyday watch, so Garmin has some real competition now
Bozeman, MT (PRWEB) April 29, 2013
The Suunto Ambit 2S is one of three new models of the Ambit due out in May and it should give the Garmin 910XT one heck of a run for its money according to the Heart Rate Watch Company.
"Suunto Ambit 2S is a much more attractive watch, thinner, lighter and can even be used as an everyday watch, so Garmin has some real competition now," says Rusty Squire, President of the Heart Rate Watch Company. He adds, "The Ambit 2S even does swim features and is compatible with bike power meters, so its the real deal."
The Big Differences
The only real difference between the two watches from a functionality standpoint is that the Garmin 910XT has a barometric altimeter while the Suunto Ambit 2S has a GPS based altimeter.
For Suunto harder crystal glass and a more durable exterior, plus a more compact size, are the strong suits. "It's a round watch instead of a rectangle and can easily pass for a day-to-day watch," says Squire. He adds, "Stylistically, Suunto has always made a more appealing product." The new Suunto Ambit 2S comes in three bezel colors - graphite, red and green - with a black band according to Squire
Suunto has always had a good following of professional triathletes and Suunto athlete Javier Gomez of Spain won the silver medal in the London Olympics and has been overall series World champion at the Olympic distance (1k swim, 40k bike, 10k run).
Battery to Go the Distance
The new Suunto Ambit 2S triathlon watches have a rechargeable lithium-ion battery that lasts for 15 hours even at one second recording intervals, which is typically what triathletes use, so it can make it through a full Ironman. "Since it is made in limited quantities, this Suunto Ambit 2S will likely be one of the hottest products of 2013," says Squire.