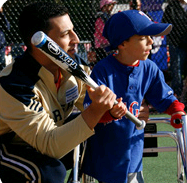 YMCA Miracle League allows these courageous kids to leave any limitations behind are just have fun.
Charlotte, NC (PRWEB) April 08, 2013
America's favorite pastime isn't just for the big leaguers. For its second season, the University City YMCA will celebrate opening day of YMCA Miracle League, a baseball league for children with physical and cognitive disabilities. The season begins with an Opening Day Ceremony on Saturday, April 13 at the YMCA Miracle League Field at University City.
In 2012, the Y and Miracle League teamed up to build the city's first baseball complex custom-made for children with special needs. In its inaugural fall season, the league hosted four teams, serving 50 disabled children across Greater Charlotte. The program also inspired a surge of altruism across the community, garnering eight volunteer coaches and 110 volunteer "buddies" to assist Miracle Leaguers around the field. Participation is expected to increase for both Spring and Fall 2013 seasons.
"The response has been amazing," says Emily Brown, YMCA Miracle League Coordinator. "We have families coming from miles outside of Greater Charlotte to play. It is an experience that families with special needs kids rarely have and it means so much to everyone involved."
The program not only facilitates the Y's promise to nurture the potential of all kids, but it also fosters a spirit of inclusion, bringing together children and families of all backgrounds and abilities.
"YMCA Miracle League allows these courageous kids to leave any limitations behind and just have fun," comments Brown.
Presented by MetLife of the Carolinas, the YMCA Miracle League Opening Day begins at 9:00 AM. The event will include testimony from YMCA Miracle League parents and the presentation of a $4,500 program donation from South Mecklenburg High School Baseball Team. Former YMCA Miracle Leaguer Matthew Habina, who now serves as a volunteer buddy, will throw out the first pitch to University of North Carolina at Charlotte's 49ers Baseball catcher, Patric King. The event will continue with a ceremonial parade of champions, who will then take the field to play the first game of the Spring 2013 season.
The media is welcome at Opening Day. This is a free event.
For more information on this event or the YMCA Miracle League contact:
Emily Brown (704) 716-6788 or emily(dot)brown(at)ymcacharlotte(dot)org
Matt Fitzwater (704) 716-6715 or matt(dot)fitzwater(at)ymcacharlotte(dot)org.
Find out more about the YMCA Miracle League at http://www.ymcamiracleleague.org
About the YMCA of Greater Charlotte
The Y is one of the nation's leading nonprofits strengthening communities through youth development, healthy living and social responsibility. The YMCA of Greater Charlotte, comprised of 19 Y branches and two resident camps, engages approximately 260,000 men, women and children – regardless of age, income or background – to nurture the potential of children and teens, improve the nation's health and well-being, and provide opportunities to give back and support neighbors. Deeply rooted in the community for 137 years, the YMCA of Greater Charlotte has the long-standing relationships and physical presence not just to promise, but to deliver, lasting personal and social change. ymcacharlotte.org.