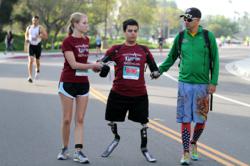 Loma Linda, Calif. (PRWEB) April 07, 2013
Physically-challenged athletes are encouraged to compete in the upcoming 11th annual Loma Linda University PossAbilities Triathlon by having the cost of their registration waived.
More than 800 physically-challenged and able-bodied athletes are expected to compete in the PossAbilities Triathlon, sponsored by founding partner San Manuel Band of Mission Indians, set for 7 a.m., Sunday, April 28, at Loma Linda University Drayson Center, 25040 Stewart St., Loma Linda, Calif.
To register for the PossAbilities Triathlon, go http://www.teampossabilities.com
PossAbilities Triathlon consists of an adult triathlon (3.1 mile run, 11 mile bike ride, 150 yard swim); a 5K run/walk/roll race; and a "kids triathlon" (1/4 mile run, ¼ mile bike, and 25 yard swim) with a bounce house as an obstacle course. The event will also raise funds benefiting PossAbilities.
A total prize payout of $6,000 will be awarded to the winning athletes. All participants who finish will receive official finish times and a finisher medal. The challenged athlete who raises the most money for PossAbilities will receive an iPad, and gifts, such as flat screen TVs, will be given to other top fundraisers. A climbing wall is free and open to the public, along with face painting and a bounce house.
"We are very excited about our 11th annual triathlon," says Pedro R. Payne, manager of PossAbilities. "Since its inception back in 2002, this event has become a tradition for the Loma Linda community. This year we have made changes to the kids' portion of our triathlon to create the best possible experience for our little ones. We are expecting a record number of participants this year. Come join us for a day of great fun, music, and food. It's going to be great!"
PossAbilities is a community outreach program developed by Loma Linda University Medical Center East Campus. Its goal is to offer physically-challenged people born with or have permanent physical injury a sense of community by offering activities and practical help.
Photo Caption: Physically-challenged athletes will get their entry fee waived when they participate in the 11th annual PossAbilities Triathlon set for Sunday, April 28, at Loma Linda University Drayson Center. More than 800 physically-challenged and able-bodied athletes are expected to join the race. In the photo, Pedro Pimenta (center) gets an assist from Allison Wynveen and Fabio Maia in completing the PossAbilities Triathlon last year.
# # #
About Loma Linda University Health (LLUH)
Loma Linda University Health includes Loma Linda University's eight professional schools, Loma Linda University Medical Center's six hospitals and more than 900 faculty physicians located in the Inland Empire of Southern California. Established in 1905, LLUH is a global leader in education, research and clinical care. It offers over 100 academic programs and provides quality health care to 40,000 inpatients and 1.5 million outpatients each year. A Seventh-day Adventist organization, LLUH is a faith-based health system with a mission "to continue the teaching and healing ministry of Jesus Christ."
About Loma Linda University Medical Center (LLUMC) East Campus
Loma Linda University Medical Center East Campus is 23-acre campus dedicated to providing a healing environment that offers comprehensive inpatient and outpatient health-care services. East Campus includes a hospital with 134 licensed beds, two physician and diagnostic office buildings, and an ambulatory service center. Physical medicine and rehabilitation, orthopaedics, neurosciences, and family medicine services are the specialties incorporated into the overarching goal of East Campus.