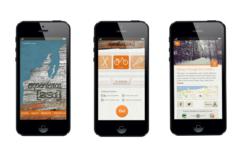 We'd like Traverse City to be known worldwide as an absolutely premiere destination for outdoor recreation.
Traverse City, MI (PRWEB) April 09, 2013
Thanks to a free smart phone app called "Experience 231," visitors to the Michigan resort community of Traverse City will have instant access to information about 300 year-round outdoor experiences – hiking, cycling, snowshoeing, skiing, swimming, paddling and birding -- with a user interface that allows them to easily select one that fits their particular needs and interests.
Suppose, for example, that a visitor wants to take a hike in the woods, but only has an hour of free time and is traveling with an elderly parent. Or someone is looking for a beach where they can take their dog, but doesn't want to waste a lot of time driving to get there.
"You simply tell the app what you want to do and how much time you want to spend, and it takes care of the rest," says Treenen Sturman of the Grand Traverse Conservation District, one of seven environmental organizations that banded together to produce the application. "There are even accommodations for pet owners and people with disabilities."
The app will be available in online app stores by May 1 and is scheduled to go active on May 19.
A coastal resort area on the northwest coast of Michigan's Lower Peninsula, the Traverse City region has a population of 160,000 people and welcomes an estimated 2.5 million visitors each year – mostly to enjoy the region's scenic beauty and its many opportunities for outdoor recreation.
In March, Traverse City was listed by the prestigious Fodor's travel group as one of America's 10 Best Small Towns, and in 2012 National Geographic named it one of its Top 10 Summer Trips. But most visitors to the region tend to cluster at a handful of heavily-publicized trails, swimming areas and other sites -- because they simply haven't been told about the others.
For Sturman and his colleagues, that presented a challenge. They didn't want to discourage recreational tourism to the area – just to spread it out a little more. The result should be a better experience for the visiting traveler and less wear and tear on recreational assets that are currently being overused.
"We'd like Traverse City to be known worldwide as an absolutely premiere destination for outdoor recreation," he says. "We want people to come here because there's a zillion things you can do outdoors, no matter what time of year it is."
Sturman's organization and six other land stewardship and local government groups were able to band together, coordinating efforts and pooling resources to gather and organize the massive database that was incorporated into Experience 231 (the number refers to the region's telephone area code). Volunteers hiked, biked, swam and paddled each site, and the data will be updated four times a year to keep it fresh.
"This is the first app that puts all this kind of information together in one place," says Jonathan Campbell of Lake Effect Associates, the company that designed Experience 231. "We've looked at products from other destinations all over the country, and no one else has anything that comes even close."
For more information about the Experience 231 smart phone app and other environmental projects in the Traverse City area, go to http://www.natureiscalling.org.