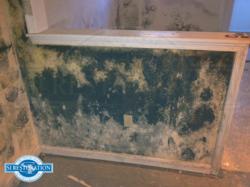 According to a recent report filed by mold experts SI Restoration, toxic black mold can actually be deadly, depending on a person's health situation.
Mount Laurel, NJ (PRWEB) April 10, 2013
Super storms, changing climates and consistent flooding have recently brought the topic of toxic black mold growth back into the forefront of the minds of home and business owners across America. Toxic black mold, scientifically known as Strachybotrys atra or Strachybotrys chartarum, is a sticky, green or black fungus that festers in dark, humid indoor areas. According to the Environmental Protection Agency, its spores are constantly airborne, embedding themselves on any type of porous organic compound they can find. Wood, paper, and fabrics are all susceptible hosts for toxic black mold.
According to a recent black mold removal report filed by mold experts SI Restoration, toxic black mold can actually be deadly, depending on a person's health situation. "People with allergies to mold can suffer serious symptoms like shortness of breath or high fevers," explains Jeff Cohn, owner of SI Restoration. "Patients with chronic lung disease or immune deficiencies are at even greater risk when being exposed to black mold." Because of black mold's adaptable reproduction method and widespread distribution, its spores are difficult to avoid.
Jeff Cohn and his team of experts are urging home and business owners to eradicate the threat of a widespread black mold epidemic before more people fall ill to the toxic invader. SI Restoration has provided the public with a list of tips on how to stop mold from growing before it starts.

"Quite simply: check for mold by cleaning your home regularly," says Mr. Cohn. Sublevels, attics and crawlspaces are perfect examples of areas that are ignored during regular cleaning. Kitchens and bathrooms are also prone to mold growth. Clean these areas often, inspecting for black mold while doing so.
"Go out and invest in a dehumidifier," urges Mr. Cohn. "By running dehumidifiers occasionally, especially in rooms that are not usually in use, mold can't get comfortable enough to stick around and grow in a drier atmosphere."
Get some fresh air. Whether an area is damp, humid, or not, providing an outlet for mold spores to escape outside is a great prevention method. "Just don't forget insect netting where screen doors and windows are not present," says Mr. Cohn.
Be wary, however, that do-it-yourself mold removal is not advised. The Institute of Inspection Cleaning and Certifications have listed their S520 Guidelines for proper mold removal. Mold colonies should be properly contained and ventilated before work even begins, while OSHA approved chemicals should be used to eradicate the fungus. Also, third party Industrial Hygienists should be brought in to properly test for mold after work has completed.