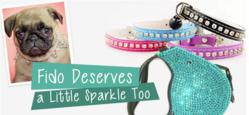 Our wide range of products means that we have something for everyone
Las Vegas, NV (PRWEB) April 16, 2013
CrystalCase.com recently announced the re-launch of their newest website design appealing to crystal audiences all over the world. The new site has been received with rave reviews from customers who appreciate the product organization, updated navigation, added product selection and free shipping on all orders over $50.00.
A 200% year over year growth in 2012 and projected revenue to exceed 1.5 million dollars prompted the crystallized accessory company to expand its product line and now carries products in a variety of categories including fashion, electronics, pet, and automotive. With over 800 products, CrystalCase.com felt it was time to redesign the site to appeal to a wider variety of products. Jeff Schaefer, General Manager of CrystalCase.com is pleased with the outcome, "We have evolved from a company selling a specific crystallized item to a wide range of crystallized products for all women. The new site allows us to show our range of product lines in a clear and organized fashion utilizing the most up to date eCommerce functions." From crystallized dog collars, to crystal covered salt and pepper shakers, CrystalCase.com allows anyone to crystallize a specific part of their life or their whole world.
CrystalCase.com expanded to a wide range of categories including: fashion accessories, pet, auto and home. Fashion accessories include the basics from belts, hats and gloves to watches and reading glasses in many strengths. The pet category is growing with the addition of crystal covered leashes as well as matching crystal waste bag dispensers. The auto category was a big hit this holiday season with high quality crystal license plate covers and crystal auto stickers allowing customers to uniquely personalize their cars. The home category is constantly growing and expanding from blinged out kitchen utensils to dazzling crystal décor.
The new site features an advanced sort functionality allowing customers to tailor their shopping experience to suit their specific needs. With a range of crystal products also comes a range of crystals themselves, from standard acrylic to high quality Swarovski Crystals. "The beauty of the new site is that we are able to cater to each customer individually. They can search for a specific item with a certain type of crystal either through the filters or keyword search. Our wide range of products means that we have something for everyone," says Schaefer.
The crystal covered market is booming and CrystalCase.com is constantly refining and developing innovative new products to remain one step ahead. "Remarkable innovation and creativity has brought this company to its current point and will only continue to grow," says Schaefer. "We always consider what items are used in everyday life and see if we can reinvent them to be more interesting and fun." Everyone could use a little more fun in their lives especially in the midst of the day to day grind. CrystalCase.com makes these products readily accessible to the masses at affordable prices while the new site makes it easier than ever to shop in a stress free refined online marketplace.
About CrystalCase.com
CrystalCase.com is a subsidiary of Trend Nation, LLC, an eCommerce incubator specializing in niche online accessories. Based in Las Vegas, NV, Trend Nation currently has investments in numerous companies across several industries. Unlike many investment firms, Trend Nation will not only make investments in businesses it will also start businesses from scratch using its proven "demand focused" approach. Each new company that is started has a defined niche and target segment that is supported by its own website and distribution strategy. Current investments include: Cuffcrazy.com, Crystalcase.com, ReusableRevolution.com, WalletNation.com and BagLane.com.
All product and company names herein may be trademarks of their respective owners.