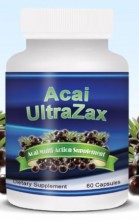 Port Saint Lucie, FL (PRWEB) April 07, 2013
BigNutrition announced today that it will be adding another powerful ingredient to its Acai Ultrazax Acai Diet Supplement. To complement with the already existing ingredients, green tea will be added to its long list of beneficial ingredients. As it is, the product is already a highly sought after way of reducing weight. If you are trying to lose weight, the powerful ingredients inside Acai Ultrazax are a great way to assist your dieting regimen.
With the addition of green tea to the Acai Ultrazax Diet Supplement, the product will be even more effective in enhancing your weight loss efforts. The product contains ingredients which have strong anti-oxidant properties enabling the body to build strong immunity to harmful microorganisms like viruses, fungi, bacteria and parasites. Acai Ultrazax also contains 7 substances designed to suppress your appetite thereby effectively reducing your desire for excessive food intake. Some of these substances are Acai Berry, Vitamin B12, Vitamin B6, Calcium, African Mango and Hoodia Gordonii.
About Green Tea
Green tea has many proven benefits and that is the primary reason why it was added to the Acai Ultrazax formula. One of the properties that green tea contributes to this already effective supplement is its ability to burn fat. This was proven in a study conducted in Taiwan involving 1,000 people for a period of 10 years. Green tea is designed to help you burn fat and help strengthen your stamina. Therefore, you will be able to exercise longer – thus burning more fat as a result.
Aside from this, green tea has been proven to contain powerful antioxidants that may help reduce blood pressure and improve mental functions. Green tea has many health benefits, aside from helping you to reduce weight. Therefore, Acai Ultrazax Diet Supplement is made even more effective and powerful because of its addition.
About Acai Ultrazax
You will never find another diet supplement that has the right combination of powerful and effective ingredients like Acai Ultrazax. Every serving contains 700 mg of Acai Berry, and its patented formula contains 300 mg of African Mango, Vitamin B12, vitamin B6, Hoodia Gordonii, calcium, green tea and others. Find Acai Ultrazax on Amazon or buy it direct at BigNutrition.com