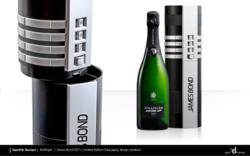 New York, New York (PRWEB) April 07, 2013
Open d USA, LLC, an independent international design group with agencies within that are each focused on different specialties. Each positioned as an expert with deep brand buyer and communication understanding. The group offers integrated services across the world. There are two agencies within the group, the first is Sparkle Design Agency which handles branding, product and packaging and, the second, Retail Access which handles merchandising and retail architecture.
Sparkle Designs Bollinger Merchandising Elements
Sparkle teamed up with Bollinger to create the packaging and visual merchandising elements for a limited edition of a very special bottle of Bollinger, "Bollinger 002 for "007", for the much anticipated release of Her Majesty's most stylish secret servant, James Bond - Skyfall. With its extensive knowledge of the Wines & Spirits categories, Sparkle's mission was to create and execute an original concept that would immediately capture the consumer and remind them of the character and the theme. At this time, the movie "Skyfall" was in theaters making the timing of this launch perfect as it would be even more recognizable by many.
About Sparkle
Sparkle Design Agency supports a brand with all their product communication and fulfillment needs by building a unique and established message just like what was done for Bollinger. They offer 3 effective steps that focus on the brand from concept to execution:
1. Dream Up : International Benchmark, Brand and Market Analysis, Trends Tracking, Strategic Recommendation
2. Design : Brand Content creation (Innovation, Brand Equity, Product and Packaging design, Art Direction, Visibility, Event Activation, Digital)
3. Deliver : Global implementation (Guidelines, Product Engineering and Technical Studies, Sourcing and Manufacturing, Event Production, Digital Development)
To learn more contact:
Open d Groups' Sparkle Design Agency in the US-
Marleny Almonte
636 Broadway, Suite 602
New York, NY 10012
Office: 646-454-9964
Email: malmonte(at)opend(dot)us