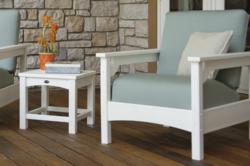 "...Goedeker's is now a proud seller of Polywood furniture."
Ballwin, MO (PRWEB) April 09, 2013
Searching out the most innovative products and offering them to customers is always a high priority for Goedeker's.
Keeping with that tradition, Goedeker's is now a proud seller of Polywood furniture.
With the addition of Polywood furniture, Goedeker's is excited to sell one of the most innovative brands in outdoor furniture.
"I am more than pleased to now sell Polywood furniture," says Steve Goedeker, CEO of Goedeker's. "Polywood furniture is beautifully designed and will enhance anyone's patio and lifestyle."
Explore Polywood furniture at Goedekers.com.
About Goedeker's
Founded in 1951, Goedeker's has grown into a premiere online home goods retailer. Over the decades, Goedeker's product lines have expanded to include: major appliances, mattresses, furniture, and plumbing supplies. Visit Goedekers.com to buy discount appliances online.
About POLYWOOD
Poly-Wood, Inc. designs and manufactures timeless classic outdoor furniture. What sets our product apart is our famous recycled milk jug lumber. POLYWOOD solid dimensional plastic lumber is made from HDPE which is impervious to all types of weather conditions including rain, snow, salt water, sun and ice. The characteristics of this durable material are both pleasant to the eyes and touch. POLYWOOD unites its plastic lumber with stainless steel hardware producing long lasting performance furnishings.