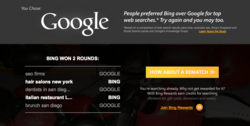 Both engines brought back similar results, but Bing had a surprising response.
San Diego, CA (PRWEB) April 06, 2013
Bing.com recently launched an advertising campaign to measure the success of its results versus those of Google. It's only fair that they want to eat into the competition a little more. At an all-time high, Bing.com reported a 16.7% market share in February 2013, compared to 67.5% for Google.
The results for Bing's survey was a marginal success - 52% of 1,000 people impartially tested preferred Bing's results over Google's. But why? SEOhaus took the test.
Staff members of SEO firm SEOhaus, based in California, recently tested Bingiton.com to discover if they also agreed with the recent study. "It was exciting for us; we kind of hoped that Bing would surprise us and declare that we preferred their results," said Michael Harbron, the Sales & Marketing Director for the company.
Account managers and staff members of "The Haus" chose 5 keywords that related to their industry along with more general terms to search, such as San Diego dentist. Their results - came back a little different than they expected.
"We wrote a blog about our results - whilst Bing seemed to deliver less of an overload in information, some of the results were somewhat dated. For example, Yellow Pages and CitySearch were quite apparent in each search, two portals that we don't really want to be using." Reported Harbron. "Google, on the other hand, seemed to overload with too much information, from time to time! However, 3 times out of 5, they delivered the most concise and relevant results in an easier to read, better laid-out format," he explains.
In SEOhaus' impartial review, Google was the winner, but only by a margin. Both engines in some cases delivered similar results. However, the problem SEOhaus staff found seemed to be Bing's dated aesthetics and the majority of their results being focused toward online review sites or business directories, such as Citysearch, Yellow Pages, Gayot etc. Harbron stated, "Google focused on more local businesses, which staff said seemed to cut down the research time. In the instance where Bing won 2 rounds, this was due to the results being a simple 10 results on one page, no maps, no blog profiles, just a simple 10 results in one straight swoop. This seemed more visually pleasing, albeit the actual results themselves were not."
SEOhaus used BingItOn.com to run their impartial test. You can read the full blog and see the results here.
About SEOhaus:
SEOhaus is an Internet marketing company in California. With over 600 clients in their roster, from the small to corporate business, the company provides services to businesses all over the world. SEOhaus has been leading the way in ethical, intelligent and strategic online marketing campaigns for over a decade.