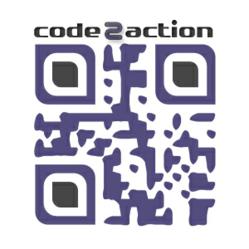 A complete mobile marketing solution for your business.
Wakefield, MA (PRWEB) April 09, 2013
Code2Action Inc. "C2A" has announced the launch of its new multi-platform mobile marketing solution for business of all sizes bringing mobile marketing to an all new high. C2A's custom program integrates the power of video and audio messages and brings them to mobile devices worldwide.
C2A's co-founders Christopher Esposito and Scott Milbury have created the process of attaching a personalized video message to a custom QR code with a company logo to enable business to brand their message. Co-founders have stated "we believe our proprietary mobile business solution will take direct response marketing to the next level."
C2A has the creative staff and technical expertise to successfully complete your project on time and within budget. Proprietary analytics and reporting provide the information to calculate the value per click and measure the ROI across multiple campaigns.
C2A takes mobile marketing to a new plateau by surpassing the response rates of television, radio, internet marketing, and direct print. The company combines innovative technology with a deep understanding of consumer advertising fundamentals; in-depth research, testing, campaign planning, execution, analysis, optimization and reporting.
C2A provides a platform to increase revenue, expand customer base, brand recognition, and social media for all the businesses we service.
C2A (http://www.code2action.com) is a creative marketing and branding agency now offering a new multi-platform mobile marketing solution. C2A is based in Wakefield, MA. and works with a range of corporate and privately owned businesses. Created from a diverse team of goal oriented individuals, C2A approaches every new opportunity as a chance to further broaden and complement our client's strengths by developing advanced technology designs and marketing strategies that work. President, Scott Milbury says "we believe in a performance based relationship where our goal is to consistently drive revenue to our clients through a variety of carefully created value driven mobile campaigns with engaging social media components."
C2A (http://www.code2action.com) services also include mobile optimized web pages, key words linked to dedicated short codes, mobile coupons, SMS text messaging, lead capture, contests, give aways, voting, polling, surveys, sweepstakes, and mobile website design. Analytics track all statistics and contact information to evaluate and measure the effectiveness of the campaign. In addition, advanced mobile features such as text to screen, and text to win can also be implemented within the system fully customized to the requirements of each client.
CEO, Christopher Esposito says "our fully integrated end to end mobile marketing platform is a complete business solution for any professional or business of any size in any industry. We develop strategies for our clients to promote their products and services to their target market."
See our demo by either scanning the QR code or simply text the word C2A to #71441.
Contact:
Scott Milbury
President
Code2Action, Inc.
27 Water St. Suite #109
Wakefield, MA. 01880
Main# (617) 206-3300
Mobile# (978) 335-8221