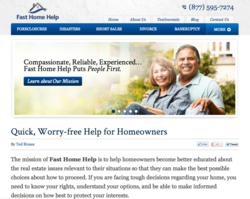 San Diego, California (PRWEB) April 06, 2013
Fast Home Help, an organization founded with the mission of educating homeowners about their rights and options in a variety of difficult circumstances, announced the launch of its flagship website, http://www.FastHomeHelp.com. The website serves as an educational resource, featuring information about foreclosures, short sales, bankruptcy, the effects of divorce on properties, and other issues commonly faced by homeowners. Visitors to the website will have the opportunity to request expert guidance and even all-cash quotes for their homes.
"We have assembled a team of real estate and financial professionals that is unprecedented in its experience and talent," stated Fast Home Help Founder Ted Ricasa. "Anyone who visits our website can see exactly who they're dealing with. Our team is not anonymous. It's comprised of some of the most reputable people in real estate, and they're putting their names and reputations behind this resource for homeowners. There's nothing else like it out there right now."
The Fast Home Help website offers homeowners a number of unique resources. For example, visitors can request a free, no-strings-attached property privacy audit. The property privacy audit collects a variety of data and essential information about a homeowner's property, including its sale date, sale price, total assessed value, and whether there are tax liens against it, into a single convenient document. Homeowners who request this document are under no obligation to work with Fast Home Help in any capacity.
However, they will have the option to request further guidance from the Fast Home Help team if they wish. In many cases, if desired by the homeowner, Fast Home Help is able to make an all-cash offer for a property, regardless of its condition or the legal and financial problems the homeowner is facing.
"We're guided by honesty, integrity, and complete transparency," Ricasa said when asked to define what distinguishes Fast Home Help from many other cash home buyers. "Our chief philosophy is to put people first. We truly want to help homeowners make the best possible decisions given their circumstances.
"If that means helping them with a short sale or making a cash offer for their homes, then great," he added. "But if we feel that it's in their best interests to refinance their mortgages or otherwise work with their lenders to keep their homes, we'll tell them so. And if we cannot offer them what we feel is a good solution, we'll tell them that, too."
The overall goal of the Fast Home Help website is to give distressed homeowners refuge from the chaotic and frustrating circumstances in which they find themselves. Whether they simply want to learn more about a certain topic or they are searching for a helping hand they can trust, the website is intended to make them feel as comfortable as possible considering their decidedly stressful situations.
"Confusion is the enemy of clarity," said Ricasa, "and you need to have some measure of clarity to make the best possible decisions in any case. That's what we're here for – to help homeowners think clearly, understand their rights and options, and proceed in the direction that's best for them and their communities."
For further information or to schedule an interview, please contact Kristy Hebel at 877-595-7274 or kristy(at)fasthomehelp(dot)com.