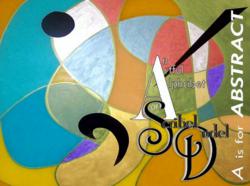 An abstract alphabet themed coloring book is a great way to introduce the rich world of abstract art to kids.
Dallas, TX (PRWEB) April 08, 2013
Alphabet themed abstract coloring book pages have been published on Kids Activities Blog. These coloring pages are part of an online coloring book that can be submitted to be part of an online or real art exhibit.
Follow the coloring book link and print out the coloring pages in black and white. Print the pages one-sided to ensure that no color is bleeding through. The pages can be glued back to back to assemble the cute coloring book once the pages have been colored and decorated.
Ask the child what medium he or she wants to use to cover the pages. Suggestions include pens, pencils, markers, and paint. Decorations for the pages can be stickers, stamps or glitter. Let the child decide what medium and decorations to use.
The coloring book is media-rich, meaning that there is more to explore than the squiggly shapes on the coloring pages. The additional media-rich content includes different art topics that the parent can explore together with the child.
Additional abstract coloring activities include exploring art pieces by clicking on the QR codes on each coloring page. Other suggestions include taking a photo of the finished art and posting it as part of the online gallery with a comment. Anyone who wants to include their art in a real live or online exhibit can mail the book back to the art studio to be included in upcoming exhibits.
For detailed instructions and to get additional cool art project ideas, check out Kids Activities Blog this week. Come get inspired to let the kids have some super cool fun with abstract art.
About Kids Activities Blog
Kids Activities Blog is a website created by two moms (who collectively have 9 children), Rachel Miller and Holly Homer from June Cleaver Nirvana. It is their daily goal to inspire parents and teachers to play with kids. This interactive website publishes simple things to do with kids twice a day. Kids Activities Blog is a great tool for moms and teachers to find kid-friendly activities that create memories and sneak learning into the fun.