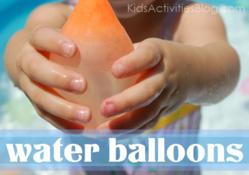 Fun games can get the kiddos used to water in their faces which will help them when they are learning to swim.
Dallas, Texas (PRWEB) April 09, 2013
Pool season is about to start. It is almost time for kiddie pool weather. The kiddos are excited to finally play pool games again. Kids Activities Blog has released fun pool play ideas that will kick off the pool season with a splash.
Ways to make the kiddie pool time extra fun are for example filling up the pool with water balloons. The kids will feel like swimming in a pool filled with balls. Let the kids push the balloons around the pool with their noses. That will help them when learning how to swim. A splash here and there will get the kids used to have water in their faces when they are in the big pool.
Ensure that the kids are supervised at all times when playing with water balloons. Remove any popped balloons from the pool to ensure that the little ones are not taking the pieces into their mouth.
Ping pong balls can also be used instead of water balloons. The older kids will love to play in a pool filled with oil coated bouncy balls.
Make sensory bags filled with all kinds of exciting and fun looking items. Great examples are filling zip lock bags with water and fabric flowers. Feathers work also very well.
Other exciting items to put inside the pool are a collection of colorful sponges, a bucket of water beads and a net to play all kinds of fishing games, a kiddo tea set to play some pool side tea time, and the all time classic squirt guns. Another super creative idea is letting the kiddos make cool floating sculptures by using cut up pool noodles and toothpicks.
For detailed instructions and to get additional super fun pool play ideas, check out Kids Activities Blog this week. Come get inspired to kick off the pool season with a splash.
About Kids Activities Blog
Kids Activities Blog is a website created by two moms (who collectively have 9 children), Rachel Miller and Holly Homer from June Cleaver Nirvana. It is their daily goal to inspire parents and teachers to play with kids. This interactive website publishes simple things to do with kids twice a day. Kids Activities Blog is a great tool for moms and teachers to find kid-friendly activities that create memories and sneak learning into the fun.