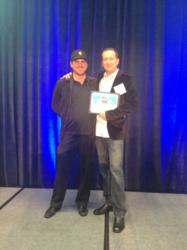 While his accomplishments are worthy of note, they are even more remarkable that he earned this recognition after having been in his role for just over a year and a half.
San Diego, CA (PRWEB) April 05, 2013
Sullivan Solar Power announced the firm's Information Technology Director, Michael Chagala, as a finalist of San Diego Business Journal's 2013 IT Executive of the Year Awards Thursday. For the sixth consecutive year, the San Diego Business Journal has recognized local technology leaders with this prestigious accolade. The evening's special award reception was held to celebrate the exceptional information technology leaders of San Diego.
"Being recognized with this award is an honor for many reasons; Solar Power is a new industry and there are no safe paths for the leading company to follow – you literally have to be a pioneer every step of the way," said Michael Chagala, "I've made some risky decisions. Some have failed, literally fallen flat on their face, but the majority were the right move, and this prestigious acknowledgement supports that."
With a background in web development and software engineering, Michael Chagala joined Sullivan Solar Power in late 2011. Over a period of only a few months, Michael designed and implemented a cutting-edge network solution from the ground up complete with multi-level security, cloud backup, ability to telecommute, and scalability for future growth. This system was instrumental in operating seamlessly across Sullivan Solar Power's satellite offices in Irvine, Riverside and the newest location, a government affairs office in San Francisco.
"Michael's efforts have improved operational efficiency for all of my team, minimized security risks, and placed us in excellent position with search engines all across Southern California for solar power," said Daniel Sullivan, founder and president of Sullivan Solar Power, "While his accomplishments are worthy of note, they are even more remarkable that he earned this recognition after having been in his role for just over a year and a half."
From 2011 to 2012, Chagala was able to double Sullivan Solar Power's online sales, contributing to the rapid growth of the organization. Michael explained that his virtual trophy on the mantle is the company's web site, http://www.sullivansolarpower.com. This website was designed by Michael employing the latest in user experience and usability, and programmed entirely in HTML5. Tireless months of testing and making modifications based on user-experience testing, have rocketed the performance of http://www.sullivansolarpower.com beyond the organization's expectations.
"Sullivan Solar Power was founded on making the world a better place and being excellent at what we do; financial success was a consequence," said Chagala, "This has cascaded into a culture of support, respect, and encouragement. I wouldn't be a finalist for IT Executive of the Year without the tribe and our culture."
About Sullivan Solar Power
Sullivan Solar Power is a turnkey solar system provider that delivers solar electric projects from concept to completion with offices in Orange, Riverside and San Diego counties. The company has installed more than 14 million watts of solar power ranging from residential to large commercial and municipal systems. Sullivan Solar Power has a longstanding A-plus rating with the Better Business Bureau, with no complaints filed since its founding in 2004. The firm has been named one of the nation's fastest growing energy companies by Inc. Magazine and services clients throughout Southern California. Regardless of project size and scope, Sullivan is committed to delivering the best products provided by the most qualified professionals to every customer. Visit http://www.sullivansolarpower.com for more information.
About San Diego Business Journal
Each week, the award-winning San Diego Business Journal examines the many ways that the San Diego economy operates. Together with the economic news, demographics and lifestyle profiles, the San Diego Business Journal is presented in an accessible format. First-rate editorial and research teams provide in-depth analysis of the community's ever-changing business and economic scene.
###