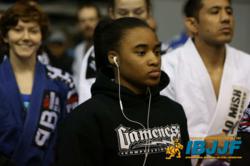 I train when I can and make the most out of it
Irvine, CA (PRWEB) April 08, 2013
While co-eds and college students across the country were celebrating spring break by partying, drinking, and sun-tanning, Aarae Alexander was winning her first Pan-American Championship.
Aarae, only 18 years old, is a freshman at the University of Maryland College Park. A civil engineering major, Aarae maintains a 3.1 gpa while training only Fridays and Saturdays at Team Lloyd Irvin's Martial Arts Academy in Camp Springs, MD.
"It's definitely a challenge. I train when I can and make the most out of it," said Aarae on balancing school and training.
Aarae defeated Gracie Humita star Margaret Aase on her way to Lightweight Purple belt Gold. All six of her matches were won on points as Aarae was unable to secure her signature Kimura.
Aarae said of her Pan's experience, "I thought Pans was great this year. I saw some amazing matches, but my favorite was definitely Galvao vs Buchecha [Black Belt Men's Open weight Final]."
A rising star in the female jiu-jitsu ranks, look out for Aarae as she seeks her 6th World Title at the IBJJF World Championships May 29th-June 3rd in Irvine, CA. Aarae currently holds five World Championship IBJJF titles [4 blue belt juvenile and 1 blue belt adult].