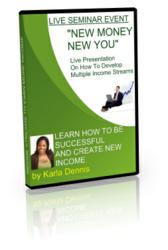 Long Beach, California (PRWEB) April 05, 2013
Karla Dennis, Enrolled Agent and CEO of Cohesive, most recently featured in Forbes Magazine, will host a special event: "New Money, New You" On Wednesday, May 1st 2013 - at the Marriott Hotel in Long Beach, CA.
4700 Airport Plaza Dr Long Beach, CA 90815
Click Here Now To Register And Hold Your Spot!
This event is targeted to those who have been struggling financially and who are ready to take the next step towards financial independence. Dennis regularly deals with small business owners, entrepreneurs, real estate investors who have struggled to get by during the economic down turn. Being a successful business owner who has thrived despite the failing economy, people constantly turn to Dennis for advice and tips of how they can do the same.
With over 15 years of experience under her belt, as well as a Masters in Taxation, Dennis is more than qualified to guide and coach. A successful business owner of Cohesive, a tax preparation and consultancy company in Cypress, Calif., Dennis has been featured in countless media outlets including MSNBC, Yahoo Finance, Forbes Magazine, SmartMoney and most recently became the new co-host on Call Toni Real Estate Radio on KTLK AM 1150. A gifted public speaker, Dennis has captivated audiences at various speaking engagements including Apartment Owners Association, Real Estate Clubs and mentoring organizations such as Live Out Loud. Her acute business savvy combined with her ability to think quickly on her feet have marked her as the tax expert in the Orange County area.
"This event is really about helping guide those individuals who want to reach financial freedom. Many people get stuck in a financial slump, I want to introduce them to money- making methods that have helped me be successful", says Dennis. "Everyone needs guidance and mentoring, there are several people who have helped me to get to where I am now. I am hoping to be this and more for those who need it".
You can sign up for this event by visiting http://www.newmoneynewyou.com or by calling the Cohesive office at 1-800-878-4051.
Joine her on Wednesday, May 1st 2013 - at the Marriott Hotel in Long Beach, CA.
4700 Airport Plaza Dr Long Beach, CA 90815