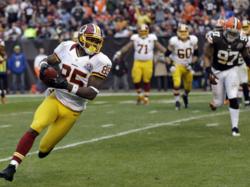 Washington, DC (PRWEB) April 05, 2013
The 2013 Washington Redskins preseason schedule has officially been released. The returning NFC East champs will return to take the field in the first game against the Tennessee Titans. The Redskins will then play two home games back to back against Pittsburgh, and then Buffalo. Their last preseason game will be at Tampa Bay. Last year, the Redskins opened their preseason with back to back road games against Buffalo and Chicago. They then played at home as they hosted the Colts and Buccaneers. The team won three games, with their one loss coming to Chicago. The regular season schedule will be released later this month.
In other news, there is a little less than one month until the 2013 NFL draft will take place. ESPN analyst Mel Kiper foresees that the Redskins will select Blidi Wreh-Wilson, a cornerback from the University of Connecticut, as the 51st pick of the draft. Wreh Wilson would be a great pick for the Redskins, as he stands at 6-foot-1 and 195 pounds. He has long arms and good speed. He ran a 4.39 40-yard dash at his Pro Day, and a 4.45 40-yard dash at the combine. He was named to the All Big East second team in 2012, his senior season. A cornerback might be needed for the Redskins, and Wreh-Wilson might be their choice.
The highly-regarded entertainment ticket marketplace, Inside Track Tickets, has launched http://www.Redskinstickets.com, its newest ticket retail site featuring one of the largest supplies of tickets for the Washington Redskins in Washington, DC. Not only can fans purchase Redskins Tickets, but they can also share their experience with friends and fans by participating in an interactive fan hub and social media experience showcasing an active blog at Redskinstickets.com that features team news, players update, as well as videos, pictures, and other information. http://www.redskinstickets.com helps fans find everything they are looking for, from Redskinstickets.com to news and events.