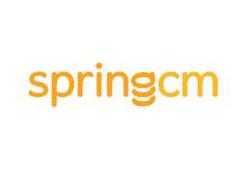 "This is the latest successful collaboration with 1185 Design on a stellar responsive site," Magic Logix CEO Hassan Bawab said. "Given the site's mobile capabilities, a responsive design is crucial to engage users."
Dallas, TX (PRWEB) April 15, 2013
Magic Logix recently launched the redesign of cloud-based content site SpringCM. In partnership with 1185 Design, Magic Logix's team of designers used Drupal to create the customized site, which is now even more user-friendly. Drupal is the standard for creating secure, enterprise sites. Additionally, it contains customizable features for SpringCM.
The site, targeted for business and enterprise use, features business-class content cloud services including: document management and storage, instant syncing to foster team collaboration, and mobile capabilities. Spring CM streamlines operations by automating tasks and business processes.
Redesigning the site made it more intuitive and easier to understand. Potential customers have the option to "See It," which features a demonstration of the services, "Try It," which allows for a free trial and "Buy It," where customers can complete their purchase.
"This is the latest successful collaboration with 1185 Design on a stellar responsive site," Magic Logix CEO Hassan Bawab said. "Given the site's mobile capabilities, a responsive design is crucial to engage users."
SpringCM's mobile capabilities are the only truly mobile workflow available today.
About Magic Logix - Global Digital Marketing Agency
Headquartered in Dallas, Texas, Magic Logix is a leading global digital marketing agency that drives client business growth by merging creativity, technology and online marketing. Through proprietary client intake, workflow and project management processes, Magic Logix consistently yields top quality results, client satisfaction and long-term relationships. Through continual discovery of new industry best practices and partnerships with industry leaders, Magic Logix delivers world class business expansion solutions to mid-sized to Fortune 500 companies and government agencies. Magic Logix continually ranks internationally in the top ten Web Design, SEO and Web Development firms by Top SEOs, Best Web Design Agencies, Interactive Media, Communicator Awards, Tech 200, is GSA certified and a fast growth company in Inc. 500. Our in-house staff works closely with clients to provide completely customized solutions using the latest technologies, best practices and originally developed approaches to produce top-quality ecommerce solutions, marketing automation tools, custom content management system (CMS) and customer relations management (CRM) integration, and dynamic Web presentations. For more information, please visit http://www.magiclogix.com.