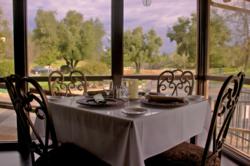 We decided to update the Blue Heron Restaurant this year so we could appeal to a wider clientele from local wine connoisseurs to families with young children
(PRWEB) April 05, 2013
A staff at a popular restaurant in Yosemite Lakes Park is showing an extensive remodel during a special dinner pairing the creations of its chef with wines from the Yosemite Sierra Wine Road.
The Blue Heron, located in Yosemite Lakes Park in Coarsegold, recently completed a complete redesign of its dining room.
"We decided to update the Blue Heron Restaurant this year so we could appeal to a wider clientele from local wine connoisseurs to families with young children. It had been over 30 years since the last update of the restaurant and it was time for a new look," said Cindy Lyman, Wedding and Banquet Sales Manager for the Yosemite Lakes Owners Association which runs the amenities inside Yosemite Lakes Park including The Blue Heron. Lyman also designed the new dining room and oversaw the renovations.
Lyman said the new look has been well received by regular customers and attracted a lot of new ones, who enjoy the modern feel combined with the traditional elements that were part of the restaurant.
"The restaurant has a Tuscan look with wine accents throughout," she said.
"We really wanted to incorporate some of the features already inside the restaurant like the exposed rock wall and the Venetian finished walls. We took down some other walls and installed a counter for a more open look."
The new look also inspired a new menu from chef Christian Mueller.
"We knew that we needed to bring in new and seasonal dishes that change monthly, but also wanted to retain our best-sellers. I think that we have found a nice balance at very reasonable prices," he said.
The first event in the newly-remodeled restaurant takes place April 12. The Spring Wine and Food pairing features specially created dishes paired with wines from the local wineries of Fasi Estate Winery, Idle Hour Winery and Westbrook Wine Farm.
The menu includes a starter of asparagus bisque accompanied by a Westbrook Wine Farm chardonnay, followed by a spinach and pignolia stuffed prawns with Idle Hour's famous Tempranillo and a beef tenderloin roast as main course with Fasi Estate Winery's Syrah. The desert will be chocolate trifle with a blackberry lime cream paired with Westbrook Wine Farm's "Malmsey Dearest" which is debuting at the dinner.
Reservations are required, and can be made by calling 559-658-6969. The cost is $60 per person. For more information, call or visit http://www.TheBlueHeronOnline.com.