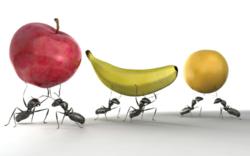 "We value the safety of our customers and stand behind the Senske Promise: if the pests return, then so do we.", says Gene Chafe, Vice President, Senske Pest Control Division.
Kennewick, WA (PRWEB) April 09, 2013
As the weather warms up, insects and spiders will begin to migrate to homes in search of food and water sources. April is the perfect time to pest proof a home to prevent these unwelcome guests from becoming established in your home during the spring and summer months.

Seal cracks and holes on the outside of the home including entry points for utilities conduits and pipes.
Repair or replace door-sweeps on exterior and garage doors.
Replace weather-stripping and caulking around doors and windows.
Keep tree branches and shrubbery well-trimmed and at least 18" away from the house to prevent convenient insect access and to allow for better ventilation.
Store fire wood away from the house and five inches off the ground.
Eliminate sources of standing water around the property, including swales, birdbaths, wheelbarrows and empty containers.
Place rubbish and garbage in weatherproof containers with tight lids.
Avoid leaving pet food dishes and water bowls out for extended periods of time.
Repair or replace damaged screens on windows or doors.
Replace outdoor lighting with yellow bulbs or sodium vapor lighting, which are less attractive to flying insects and the spiders they attract.
Senske's residential pest control service can treat the problem inside and outside. An application around the perimeter of your home (or business) keeps pests from getting in, and interior application is done by request or when necessary.
About Senske Services:
Senske Services, Inc. is a leading lawn, tree and pest control service provider that is locally owned and operated, with its corporate office based in Kennewick, Washington. It has been a trusted source of lawn, tree and pest control services for more than 65 years across Eastern Washington, Idaho, and Utah, as well as pest control in Las Vegas, Nevada. To see what Senske Services can do for you, visit http://www.senske.com.