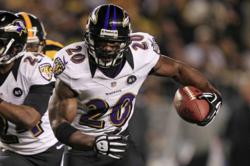 (PRWEB) April 06, 2013
The Baltimore Ravens, and returning Super Bowl Champions, will open up their preseason against the Tampa Bay Buccaneers. In the second week of the 2013 preseason, the Ravens will host the Atlanta Falcons. Their last two games will be against the Carolina Panthers and the St. Louis Rams. Although three of the matchups will be familiar to the Ravens, they have never played the Buccaneers in a preseason. Against the Atlanta Falcons, the Ravens are 6-3 all time. They are also 4-1 against the Panthers, and have no wins against the Rams in a preseason. The NFL is expected to release the regular season schedule in a few weeks.
Although the Baltimore Ravens have filled some holes in free agency, they will have some work to do to replace top players like Anquan Boldin, Bernard Pollard, and legend Ray Lewis. With 12 draft picks to work with, it should be possible to fill those spots. Tavon Austin will be one of their top picks if still available in the first round. Odds are he will be gone before the Ravens pick, but if he is will be a fast, stimulating target for the team. It will be interesting to see who the Ravens pick to fill their open spots. Make sure to follow up and find out at RavensTickets.com. (http://bleacherreport.com/articles/1593582-draft-prospects-who-would-fit-perfectly-with-the-baltimore-ravens/page/3)
The highly-regarded entertainment ticket marketplace, Inside Track Tickets, has launched http://www.RavensTickets.com, its newest ticket retail site featuring one of the largest suppliers of tickets for the Baltimore Ravens in Baltimore, Maryland. Not only can fans purchase Ravens Tickets, but they can also share their experience with friends and fans by participating in an interactive fan hub and social media experience showcasing an active blog at http://www.RavensTickets.com, which features team news, player updates, as well as videos, pictures, and other information. RavensTickets.com helps fans find everything they are looking for, from Ravens Tickets to news and events.