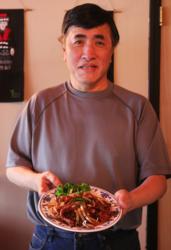 Most of the old customers see the difference and appreciate our new way of cooking the food and what we've done to freshen up the restaurant. Additionally we're getting a lot of new customers who enjoy their experience as well
Oakhurst, CA (PRWEB) April 08, 2013
The Jade Gazebo in Oakhurst has recently seen numerous changes, including a refreshed dining room and revamped menu.
Peter Young recently took over the operations of the restaurant and has put his years of experience to work, quickly winning over regular customers and gaining numerous new ones. "We have started to develop a lot of new regular customers who appreciate the changes," said Young.
"Most of the old customers see the difference and appreciate our new way of cooking the food and what we've done to freshen up the restaurant. Additionally we're getting a lot of new customers who enjoy their experience as well," he said.
Young has over 30 years of restaurant experience. One of his first moves was to bring in chef Ping Chang who himself has been cooking professionally for 40 years. When combined with new sushi chef Ling Yang's 20 years, the trio bring nearly a century of restaurant experience to bear at the Jade Gazebo.
The expanded menu now also includes sushi, which they just started serving.
Young said while the locals have appreciated the more traditional Chinese fare the restaurant now serves when compared to the more Americanized style that many people may be familiar with, he said he really anticipates getting a lot of business from the numerous Asian tourists who come to Oakhurst on their way to Yosemite.
"We see a lot of Asian visitors here on their way to Yosemite, we give them an authentic dining experience to make them feel welcome and at home when they visit," he said.
"The way of cooking is different, the food isn't as sweet. The authentic menu has more spicey dishes," Young added.
He said the most popular thus far has been the Mongolian Beef, which has earned positive reviews for it' bold, spicey flavor, while the sushi has also been earning high praise.
While the restaurant has the new menu, Young said many of the old favorites remain available as well.
The Jade Gazebo is open for dinner seven days a week while lunch is served Thursday through Tuesday.
To learn more, visit http://www.NewJadeGazebo.com.
-END-