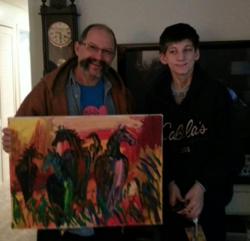 "These stories are powerful, and this gift I have been given is a powerful one, and I will use it to create change, awareness, and to make the world a better place".
Seattle, Washington (PRWEB) April 07, 2013
It is not surprising when a self-diagnosed person with Aspergers has been given a savant gift, and wants to give back. Michael Tolleson, autistic savant artist extraordinaire, continues to give throughout the year, but finds April to be a special month in which he simply wants to do more. "April is National Autism Awareness Month, and I am delighted to take part in a featured segment on NBC's New Day Northwest during their televised April Autism Awareness programming, where I will be completing a full 24 x 48 inch acrylic painting during the one hour show segment, and revealing it at the end of the show. The painting will then be donated to the Seattle Children Hospital's Autism Center where they can use it as a featured auction item for their upcoming Benefit Gala".
Mr. Tolleson not only uses April as a platform to build awareness for autism, but he gives throughout the year, as he is continually told that his paintings give hope, inspiration, and light to the autistic community. Donations to "Make a Wish Foundation", and to other non-verbal children with autism have proven mind boggling as he witnesses firsthand the emotional bond his paintings have with children with autism and the entire autism spectrum community. Children, that normally do not respond, suddenly hold his paintings in their hands, and they start to caress the surface, and resonate with the bold color palette and the horses and other landscape that stretch across the canvas. Somehow Michael is able to communicate through his art, and to open a gateway into the children's minds, where they can experience and imagine hope and light.
Michael has donated his work to numerous charitable organizations across the U.S. in hopes that he will continue to open more gateways and inspire more children with autism to believe that they too can communicate through artistic expression. "My paintings cross all boundaries as I receive hundreds of correspondence daily, explaining to me that somehow my paintings are touching people on a deep level, and they are resonating with the work and the emotion that it is embedded in each painting. They explain that the experiences are changing their lives, and their child that wouldn't respond before, is somehow now responding to my paintings, including one child that wanted to sleep with it at night, as it somehow comforted him and gave him a sense of peace", explained Tolleson. "These stories are powerful, and this gift I have been given is a powerful one, and I will use it to create change, awareness, and to make the world a better place".
Tolleson, along with his partner Jack Carl Anderson, run an art mentoring program in Seattle (Heart of the Spectrum) where children on the autistic spectrum have the opportunity to express themselves through art and various mediums. So for Michael, April is a special month in which he goes that extra step to ensure that his community is acknowledged, and that the world understands that being autistic does not mean that you cannot achieve greatness.
About Michael Tolleson
For bio and additional information please go to http://www.michaeltollesonartist.com
Michael Tolleson is a self-taught artist and savant who has been self-diagnosed with Asperger Syndrome. With an IQ of 154, and the ability to produce a large scale gallery ready painting in 60 minutes or less, Mr. Tolleson is considered by many to be a genius in the artistic and autistic community.
Facebook: https://www.facebook.com/pages/The-Art-of-Michael-Tolleson/300007513391922?ref=hl