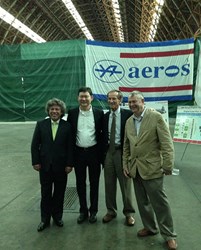 Los Angeles, CA (PRWEB) April 08, 2013
Worldwide Aeros Corp. (Aeros) CEO Igor Pasternak recently hosted longtime local Congressman Dana Rohrabacher and the Ambassador of Kazakhstan for a behind-the-scenes look at the most innovative and revolutionary development in the aviation space, the Aeroscraft. At the historic Marine hangar in Tustin, CA the delegation assembled to talk innovation and the military, commercial and humanitarian applications for new technology.
Southern California Congressman Dana Rohrabacher brokered the exclusive opportunity for industry leaders within his congressional district to share details about forthcoming disruptive innovations with the visiting foreign dignitaries in the shadow of the massive Aeroscraft, a rigid buoyancy-managed aircraft that will have its first outdoor flight later this year. VIP or media access in advance of this milestone is rare, as final flight preparations are now currently underway. Representative for California's 48th District, now in his 13th term, Congressman Rohrabacher has been working to support the successful commercialization of his district's technological innovations within the U.S. and around the world.
The honorable Kairat Umarov, Ambassador of Kazakhstan, was also joined by Mr. Anuar Kurzhikayev, Second Secretary for Commercial and a Deputy Chairman of "Kaznex Invest" (not pictured), for a better understanding of how the Aeroscraft will provide new cargo logistic solutions that can speed construction, commerce, and jobs in the region.
For Pasternak, originally born in Kazakhstan, the opportunity to discuss strategic support around bringing major projects to the region was both a personal and professional reward. "I am thrilled after a lifetime of work on the Aeroscraft, to be able to meet with members of my home country, and address ways in which we can support peoples' need for growth and development, as well as their aspirations."