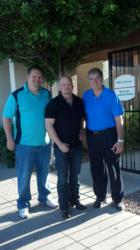 Not only does the Herbst device improve production at work, but it improves quality of daily life
Phoenix, Arizona (PRWEB) April 07, 2013
Pro Player Health Alliance delivered several patients to the Koala Center For Sleep Disorders this week from NFL greats to Mitch Fletcher, Chief Engineer of the Human Space Business Segment at Honeywell, for Obstructive Sleep Apnea (OSA). Mr. Fletcher, like many others, has gone years without knowing of the possibility that OSA could be affecting him. After hearing about the deadly disorder from President David Gergen of Pro Player Health Alliance, Mr. Fletcher contacted Dr. Core of Koala Sleep Centers to get treated immediately.
He has worked at Honeywell for over twenty-five years and was looking to ultimately improve his daily productivity by treating his Sleep Apnea when he decided to try CPAP. "CPAP seemed to be the solution for my Sleep Apnea, but after wearing it for a few hours I knew it wasn't for me. When David told me I could be treated with an oral appliance I went in to Dr. Core's office as soon as I could".
Mr. Fletcher directly supervises over 360 engineers on a daily basis and expresses how important it is to be alert and awake for the entire day. After just one week of wearing the appliance, he noticed a significant difference in the lack of fatigue he had compared to how he felt during the day before being treated. Mr. Fletcher also found an interesting side effect; in a week's time without changing his day-to-day routine, he found out he had lost five pounds. He stated, "Not only does the Herbst device improve production at work, but it improves quality of daily life".
Mr. Fletcher was so impressed by the results, he asked to speak at the upcoming Pro Player Health Alliance Event on April 18th at the Sheraton Crescent Hotel at 7:00 PM. This event will have former and current NFL greats in attendance such as Larry Fitzgerald, Roy Green, Mark Walczak, and Derek Kennard. Registration for this event is free to the public and is intended to spread awareness of the deadly disorder, Obstructive Sleep Apnea.
Event Details
Location: Sheraton Crescent Hotel 2620 West Dunlap Avenue, Phoenix, AZ 85021
Date: April 18, 2013
Time: 7:00PM-8:30PM (MST)
Phone: 602.863.341
About David Gergen
David Gergen, CDT and President of Pro Player Health Alliance, has been a nationally respected dental lab technician for over 25 years. He received the award for "The Finest Orthodontic Technician in the Country" given by Columbus Dental in 1986. He also has been appointed chair of the dental wing of the American Sleep and Breathing Academy a national interdisciplinary academy dedicated to sleep training and education with over 60,000 members. David rolled out of bed on September 12, 1981 and had his career "ah ha" moment. He knew he was going to be an orthodontic technician and he knew he was going to help people all over the country to help treat their sleep disorders in partnership with their dentists. He has worked for some of the pioneers in the orthodontic and sleep dentistry fields. He was the personal technician for the likes of Dr. Robert Ricketts, Dr. Ronald Roth, Dr. A. Paul Serrano, Dr. Clark Jones, Dr. Harold Gelb, Dr. Joseph R. Cohen, Dr. Rodney Willey, Dr. Allan Bernstein, and Dr. Thien Pham. One of his proudest achievements is receiving The National Leadership award for Arizona Small Businessman of the Year in 2004.
About Dr. Rod Willey
Dr. Willey graduated with a Doctorate of Dental Surgery in 1985. His career path has taken him from studying functional orthodontics including Pediatric Guided Growth Development at the United States Dental Institute, a five year course for the general dentist, to Neuromuscular Occlusion from the prestigious Las Vegas Institute for Advanced Dental Studies, to treatment of Obstructive Sleep Apnea with Oral Appliance Therapy. All of these areas of dentistry deal significantly with the neuromuscular positioning of the lower jaw and have proven to be a natural progression in his studies. He has been awarded recognition in the field of TMD Developmental Diagnosis, Neuromuscular Coronoplasty and Mastering Neuromuscular Occlusion. He is a member of the American Dental Association, Academies of Sleep Medicine, Dental Sleep Medicine, and a Diplomate of the Academy of Clinical Sleep Disorders Dentistry.