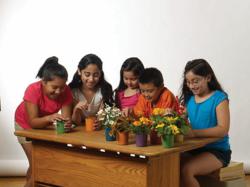 Lebanon NJ (PRWEB) April 16, 2013
In celebration of Earth Day this month, PartiesToGrow.com is giving away an extra 12 seed packets with every order! Order the flower party favor pack in the month of April and receive extra seeds to plant in the garden or in some containers on the porch or patio.
Partiestogrow.com party favor kits are a great way to celebrate Earth Day in the classroom, at a Girl Scout meeting, or during a playdate. Children can decorate the bamboo pots, fill with potting material (included), plant the fresh seeds, and watch the flowers grow. Popular varieties of fresh seeds are included: daisy, marigold, sunflower, zinnia, sage, and coleus. These varieties grow quickly, giving young gardeners the success they need to motivate them to continue caring for the young plants.
About Us: Partiestogrow.com was started by a mother of two who works in the garden industry. Attending dozens of kids parties over the years, she came up with the idea of partiestogrow.com which is earth friendly and fun.