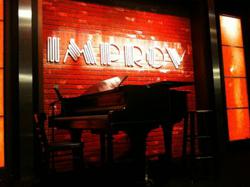 Indie comedy, a much desired alternative to the usual comedy club scene out there. It's a fearless, innovative, gut-splittingly funny, thinking-person's event that brings together daring, smart comedy and cool music.
Los Angeles, CA (PRWEB) April 07, 2013
Legendary actor, Emmy Award winning writer, and comedian Rick Overton brings his special brand of comedy friends to The Improv next Sunday April 14th at 9:30PM for an evening of evening of laughs and music. The show is a fearless, funny and innovative thinking-person's event!
The line-up includes Carrie Snow, Jann Karam, Cathy Ladman, Kira Soltanovich, Dylan Brody, Laura Kightlinger and special Music Guest Gary Stockdale. Hosted by Chris Pina. Carrie Snow is an American stand-up comedian, comic writer known for writing for the television series Rosanne, and actor. Snow was also featured in the documentary The Aristocrats.
Jann Karam is a comedian, actor and writer whose numerous T.V. credits include stand-up appearances on Late Show with David Letterman, The Tonight Show and HBO's Young Comedians Show. In addition to playing one of Jerry's girlfriend's onSeinfeld (The Switch), Jann has guest-starred on Norm, Mad About You, Politically Incorrect, Dr. Katz and more.
Cathy Ladman is a Jewish American stand-up comedian, television writer, and actor. She was featured in her own installment of HBO's One Night Stand comedy series, and has been a guest on The Tonight Show on nine occasions.
Kira Soltanovich is a stand-up comedian, writer, and actress best known for her work on prank-oriented reality shows such as Oxygen Network's Girls Behaving Badly and TV Guide Network's Trapped by TV Guide. She is also known as the voice of a talking photo booth in a sketch on The Tonight Show with Jay Leno, and The Jay Leno Show.
Dylan Brody is a U.S. humorist, playwright, author and stand-up comedian. His play Mother May I won the Stanley Drama Award. He has appeared on A&E's Comedy on the Road and Fox TV's Comedy Express and has written for Jay Leno's Tonight Show monologue.
After touring as a stand-up comic, Laura Kightlinger got her break writing for the television sitcom Roseanne. She later wrote for Dennis Miller Live and for the 20th season of Saturday Night Live, on which she was also a featured performer and cast member.
Gary Stockdale is a 2-time Emmy-nominated composer, who has composed music for television shows such as Comedy Central's Last Laugh, The Independent Spirit Awards, and 8 seasons of Showtime's award-winning Penn & Teller: Bullsh*t! He also wrote music for The Aristocrats.
Host and show producer Chris Pina has been a stand-up, sketch artist and improvisor at the Hollywood Improv and many other comedy clubs for years. He's been the opening act for Jay Leno, Billy Crystal, Sam Kinison, Rick Overton and many other comics.
With a group like this laughs are guaranteed!
Rick Overton and friends are giving away a few pairs of tickets this week to the show on Facebook: ENTER HERE!
For tickets and information visit: THE IMPROV WEBSITE