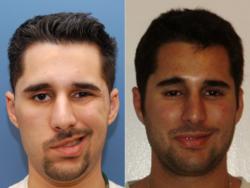 Seeing a patient regain the ability to smile is almost unexplainable. I'm very happy for Joe and thankful that the surgery was a success.
Beverly Hills, CA (PRWEB) April 08, 2013
Facial paralysis expert Babak Azizzadeh, MD, FACS, performs Gracilis Free Flap surgery for patients experiencing long-term facial paralysis. Most recently, Dr. Azizzadeh performed the surgery on patient Joseph Mare, a college baseball player who received interest by Major League teams, including the New York Mets and the Milwaukee Brewers. Mare was struck by a car while crossing the street in 2008 and suffered life-altering injuries that included brain trauma, a collapsed lung, broken bones, a fractured skull, and facial paralysis.
Before beginning treatment with Dr. Azizzadeh, Mare was unsure that he'd ever have a symmetrical face again, or that he'd have the ability to express happiness through a smile.
"When I met Joe, he was dealing with severe facial paralysis on the right side of his face. After examining him and discussing his expectations, we agreed on using a surgical plan that would restore a spontaneous and emotional smile.
The hypoglossal facial nerve surgery allows neural input to the paralyzed nerve, while the Gracilis Free Flap introduces a new nerve that could restore Joe's smile. The Gracilis Free Flap surgery is a multi-step surgical procedure which often has the most success in patients experiencing long-term facial paralysis when the native facial nerves have lost all function. This surgery involves transplanting a portion of the Gracilis muscle from the inner thigh to the patients face. Because of it's unique ability to remain functional with it's nerve, artery, and vein intact, it can provide amazing results for the reanimation of a patients face.
Because Joe was a competitive baseball player with a time consuming training schedule, he initially underwent the hypoglossal facial nerve transfer. A couple of years following his surgery, Joe and his family decided that although they were very happy with the outcome of the hypoglossal procedure, the Gracilis Free Flap surgery would provide him with the chance to have better facial symmetry and movement.
"Some of the results that Joe is experiencing post surgery are absolutely phenomenal. He's able to move the right side of his face spontaneously, he can speak better, and his facial symmetry has increased considerably," said Azizzadeh, facial paralysis surgeon in Beverly Hills.
Even though Mare underwent a muscle transfer as a part of his surgery, his ability to participate in competitive sports was in no way affected, as his athletic ability thrives to this day. As the founder and director of The Facial Paralysis Institute in Beverly Hills, Dr. Azizzadeh's goal is to always provide his patients with the best care possible while assuring that they continue to lead a normal life.
"Seeing a patient regain the ability to smile is almost unexplainable. I'm very happy for Joe and thankful that the surgery was a success," said Dr. Azizzadeh.
Dr. Azizzadeh is a facial reconstructive expert and is recognized as a Top Doctor by the US News & World Report. Babak Azizzadeh has helped hundreds of people with varying degrees of facial paralysis overcome their disorders through Gracilis Free Flap Surgery and other facial paralysis treatments. Dr. Azizzadeh is the director of the Facial Paralysis Institute and one of the leading figures in the field of Facial Nerve Paralysis.
If you would like to learn more about facial paralysis or how Dr. Azizzadeh can help you, please contact the Facial Paralysis Institute today by calling (310) 657-2203 to schedule your initial meeting. Further information can be attained by visiting http://www.facialparalysisinstitute.com.