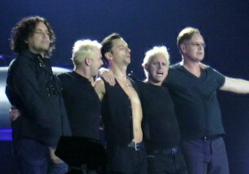 New York, NY (PRWEB) April 06, 2013
Cheap Concert Tickets announces that Depeche Mode tickets will be available beginning at 10:00 a.m. local time on Saturday, April 6, 2013. The long-running synthpop group has added 20 shows in the United States and Canada onto its "Delta Machine Tour" calendar. The group released their 13th studio album last March 22nd and will be promoting it via a concert tour which starts in Europe before going to the North America in late August.
Composed of Martin Gore, Dave Gahan and Andy Fletcher, Depeche Mode has been recording and performing since 1980. In more than 30 years, the group has been called by critics, magazines and other artists as "the most popular electronic band the world has ever known," "one of the greatest British pop groups of all time," and "the quintessential Eighties techno-pop band." Despite their continued music making, Martin Gore mentioned in a recent interview that they could not guarantee that there will be another album. They may not have a guarantee but they still deliver, nonetheless.
Their latest album, "Delta Machine," has received critical acclaim, and some critics have called it the best album of their career. Part of the New Wave, synthesizer rock music of the 1980's, Depeche Mode is still going strong with a consistent stream of studio records. They have been releasing albums with an unlikely regularity of every four years since 1993. The first single off of the latest album, "Heaven" was released on February 1st. It is a slower song, very bluesy, and containing the signature Depeche Mode synth and sampling.
The group has been an inspiration of 1980's contemporaries as well as succeeding generations of bands. Among singers, bands and musicians who have been influenced in their music as well as showing this influence in their songs are Shakira, The Crystal Method, Pet Shop Boys, Linkin Park, The Killers, Gary Numan, Coldplay, and others. They categorize their music as synthpop, and have also been variously tagged as goth, alternative dance and New Wave.
The Delta Machine Tour officially starts in Nice, France in May 4th, before going to Tel Aviv in Israel. They continue the European leg of the tour with 34 other stops ending in Minsk, Belarus on July 29. They start the North American leg on August 22nd in Detroit (Clarkston), MI. With 20 performances, the North American leg ends on October 8th in Phoenix, AZ. A second European leg is already firming up as they line up new gigs starting with a show at Belfast, Northern Ireland, on November 7th. Although there are talks for a further set of shows in the United States, there are no confirmed dates as of the moment.
About Cheap Concert Tickets:
CheapConcertTickets.me delivers tickets to sold out concerts and events worldwide when no one else can, and they do so at discounted prices. As a member of TicketNetworkDirect, they can guarantee the delivery of Maroon 5 and Kelly Clarkson tickets along with tickets for Depeche Mode and The Rolling Stones tickets. This trusted ticket exchange also has a large inventory of tickets for all sporting events around the World. With CheapConcertTickets.me customer service is a priority, for more information email support(at)cheapconcerttickets(dot)me.