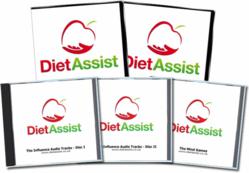 we have discovered that the brain can be rewired using easy to learn psychological techniques that change the way people relate to, and behave with regards to, food
(PRWEB UK) 7 April 2013
In the study published in the Journal of Neuroscience using experiments in rodents, cells called Tanycytes were found to produce neurons which specifically regulate appetite.
Researchers say this means appetite is not fixed at birth and could be a major cause of eating disorders such as obesity. Their study is published in the Journal of Neuroscience.
It was previously thought that nerve cells in the brain associated with appetite regulation were generated entirely during an embryo's development in the womb and could not be altered.
Discovery of these Tanycytes, which act like stem cells, in the brains of rodents shows that appetite can be modified.
Lead researcher Dr Mohammad Hajihosseini, from the university's school of biological sciences, said the discovery could eventually offer a permanent solution for tackling obesity - but it would take up to five or 10 years to translate the findings into humans.
Paul Howard, from DietAssist, said, "Although this discovery is without a doubt very interesting, we have discovered that the brain can be rewired using easy to learn psychological techniques that change the way people relate to, and behave with regards to, food."
"In the DietAssist programme we create new patterns of behaviour towards food that allows people to control and regulate their food intake and more importantly change their future behaviour without having to calculate the calorie content of every mouthful."
The DietAssist programme educates the brain into a new way of viewing food, and as the people using the programme generally already know how to lose weight, the combination creates a powerful force for change.
The real power of this change is that it gives the person the ability to maintain dietary control going forward and helps them to develop and maintain more appropriate eating behaviours. It aims to completely change the person's relationship with food at an emotional level and effects change without the need for drugs, special diets or costly surgery.
The DietAssist programme helps people who want to lose weight, but who find dieting hard work. It teaches people how to take control of their cravings so that slimming becomes easier and more successful.
DietAssist strengthens motivation and resolve and creates the optimum psychological state for dieting, and it works alongside any weight loss programme or sensible eating plan.