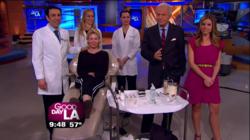 Los Angeles, California (PRWEB) April 06, 2013
According to a recent Harper's Bazaar article, stem cells have been discovered to offer effective anti-aging properties. A new skin care company is offering a treatment using one's own stem cells that claims to be the solution for fine lines and wrinkles (Go to: goo.gl/Nqegn).
"I appreciate the work of other physicians pushing the boundaries of skin care and science," says Dr. Ourian, Medical Director of Epione Beverly Hills. "In this instance, I would need to see additional positive data before I'd offer the treatment to my patients."
Those choosing this new skin therapy undergo a type of liposuction with an approved plastic surgeon. A few ounces of fat tissue are removed from the body, placed in a cooler, and sent to a lab. There the stem cells are separated from the rest of the fatty tissue obtained during the liposuction procedure. The cells are then cultured in a growth solution, with the final product being a client specific skin care product.
Over the last several years, aesthetic practitioners have been using autologous fat transfers in which fatty tissue taken from one area of a client's body is transplanted into another part of the body. This procedure can make faces and lips look healthier and fuller. The treatment in the report is the first to use one's own stem cells to cultivate a personalized skin care product to stimulate the skin's healing abilities.
According to the article, users of this new line say that the product effectively reduces wrinkles and fine lines. Further, researchers found that out of 19 clients, 95 percent reported improved skin texture within just 4 weeks of using the product, reduction in fine lines that was visible was reported by 81 percent, and 87 percent of clients reported a more youthful appearance.
Critics point out that a major drawback of this procedure is its costly nature, with procedures such as Botox and dermal fillers in the same price range. "I have to say that, for now, I'm in agreement with the critics," says Dr. Ourian. "Why pay for something you hope will work when for the same money you can receive a treatment we know will be effective?"
Dr. Ourian has been a pioneer in laser technology and non-invasive aesthetic procedures including Restylane, Juvéderm, Radiesse and Sculptra. These treatments are used for the correction or reversal of a variety of conditions such as acne, acne scars, skin discoloration, wrinkles, stretch marks, varicose veins, cellulite, and others. More information about stem cell skin care treatments can be found on Epione's website.