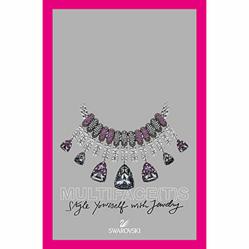 Whether haute couture pieces or creations to wear every day, jewelry offers an infinite scope for expression and is a woman's greatest ally in showcasing her many facets.
London (PRWEB UK) 8 April 2013
With the launch of her first book Multiface(t)s Style yourself with Jewelry, Nathalie Colin, Creative Director at Swarovski, reveals the art of self expression through jewellery. Whether haute couture pieces or creations to wear every day, jewellery offers an infinite scope for expression and is a woman's greatest ally in showcasing her many facets. Through the richness of its collections, Swarovski allows every woman to experiment with her appearance, to renew her look, and to reveal her inner shine.
"How should I wear jewellery?" For the first time, with an original and playful approach, this book brings together style ideas that every woman can easily adopt.
From romantic rendezvous to chic dinners, from a working day to relaxation time with friends or family, from vacations to brunch with girlfriends, thirteen different key moments in a woman's life are laid out on these pages.
In collaboration with renowned stylists, known for their affinity with the world of accessories, Nathalie Colin offers guidance on creating a dialogue between jewellery, clothes, and the body, and revealing each reader's multifaceted personality. Discover your multifaceted personality with valuable and practical advice on how to enhance your style or change your look: how to choose a pair of earrings, set off your décolletage, or get ready for a special occasion. Between trends and fashion, this captivating, designer hardcover provides the expert opinion of a luxury and fashion professional. A stunning number of ways in which to accessorize for the sparkling and creative moments that make up 24 hours in a woman's life! Get your copy of Multiface(t)s Style yourself with Jewelry from the Swarovski Online Shop!
For online use only.
About Swarovski:
In 1895, Daniel Swarovski, a Bohemian inventor and visionary, moved to the village of Wattens, Tyrol in Austria, with his newly-invented machine for cutting and polishing crystal jewellery stones. From this beginning that revolutionized the fashion world, Swarovski has grown to be the world's leading producer of precision-cut crystal for fashion, jewellery and more recently lighting, architecture and interiors. Today, the company, still family-owned and run by 4th and 5th generation family members, has a global reach with some 23,000 employees, a presence in over 120 countries and a turnover in 2010 of 2.06 billion Euros. Swarovski comprises two major businesses, one producing and selling loose elements to the industry and the other creating design-driven finished products. Swarovski crystals have become an essential ingredient of international design. Since 1965 the company has also catered to the fine jewellery industry with precision-cut genuine and created gemstones. Showing the creativity that lies at the heart of the company, Swarovski's own brand lines of accessories, jewellery and home décor items are sold through more than 1,900 retail outlets worldwide. The Swarovski Crystal Society has close to 325,000 members across the world, keen collectors of the celebrated crystal figurines. And in Wattens, Swarovski Kristallwelten, the multi-media crystal museum, was opened in 1995 as a celebration of Swarovski's universe of innovation and inspiration.