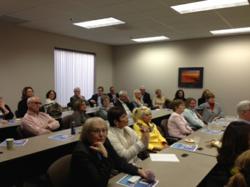 Westborough, MA (PRWEB) April 17, 2013
Robert J. Kalagher, President of Ross Mortgage Company announced today the completion of a successful REALTOR® Appreciation and Education event hosted at the Company's headquarters in Westborough, MA. Approximately 100 guests were in attendance and were educated on a variety of real estate sales and business building techniques.
Guest speaker John Alexandrov of REIC presented a national and local real estate overview and highlighted the reasons why the current real estate market is unique in comparison to other "real estate recoveries." Mr. Alexandrov also revealed a sales technique called "The Guaranteed Sale Process" which many of his REALTOR® clients across the country are using to increase their sales in excess of 100%.
"It is our job to continually educate local real estate professionals on the various ways they can improve their businesses," stated Mr. Kalagher "and we like to have fun along the way." To receive invites to future Ross Mortgage Company REALTOR® education events, real estate professionals can go here http://rossmortgage.co/portal/ to register.
About Ross Mortgage:
Ross Mortgage Company was founded by Robert J. Kalagher and his father in November of 2001. The co-founders have 30+ years experience in the retail mortgage banking industry. The corporate headquarters is located in Westborough with additional offices throughout Massachusetts and southern New Hampshire. Ross Mortgage is licensed in Massachusetts, New Hampshire, Maine, Connecticut, and Rhode Island.
Ross Mortgage offers a variety of mortgage loan products, and the company is a Direct Endorsed lender for the Federal Housing Administration and the Veteran's Administration. As an approved lender, Ross Mortgage has the ability to originate, underwrite and close these government guaranteed mortgage loans in all the states where it holds a license.
We lend in the following states: MA, RI, ME, NH, CT. Massachusetts License MC2084, Rhode Island License Number 20051871LL, Maine License Number #SLM8280/SLB12108. Licensed by the New Hampshire Banking Department, First Mortgage Broker and Banker License No. 8882-MBB, State of Connecticut Department of Banking, First Mortgage Lender/Broker No. 18804, Second Mortgage Lender/Broker No. 18805. Westborough NMLS#2084 | Woburn NMLS#99001 | Leominster NMLS#146120