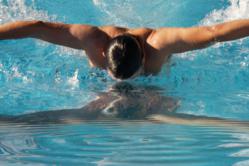 We are convinced that this is the best swim watch you will have ever owned and the new analysis software is the best we have ever tested
(PRWEB) April 06, 2013
The PoolmateHR is the world's first-ever swim watch to produce laps, strokes, distance and heart rate according to the Heart Rate Watch Company, which is why they voted it as the best swim watch for 2013.
FEATURES NEVER BEFORE SEEN FOR SWIMMERS
"The PoolmateHR is the first watch we have encountered that uses vibration alerts in the water which is perfect because sound alert and visual alerts won't work," says Rusty Squire, President of the Heart Rate Watch Company. He adds, "This watch uses a much larger memory and will work with either a PC or a Mac, plus the calories are much more accurate because now they are heart rate based."
The PoolmateHR uses a rechargeable battery and comes with a docking station for both charging and storage. The heart rate chest strap uses a 122kHz transmission signal and contains a user replaceable lithium coin cell battery, which is a standard CR2032, the type of battery you can buy for a couple bucks at WalMart," according to Squire. He adds, "The battery should last 6 to 9 months between changes."
Swim watches like the Garmin 910XT and Finis do laps and strokes but lack heart rate data.
This swim watch actually records lap by lap data which allows the software to do some powerful comparisons of data. PoolmateHR delivers laps, distance, speed, calories, heart rate, calories, swimming efficiency and average strokes. "This watch delivers and charts more data than any other swimming watch in history," says Squire.
DURABLE CONSTRUCTION
"The watch unit has a durable sapphire crystal and ceramic face so it is built more durable than any swim watch we have ever tested," says Squire. Every other swim watch on the market uses poly resin and plastics in their body and crystal construction according to Squire.
"We are convinced that this is the best swim watch you will have ever owned and the new analysis software is the best we have ever tested," says Squire.
The Heart Rate Watch Company now has the PoolmateHR in stock and available for same day shipment.