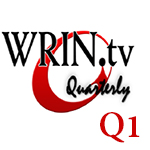 Our success is due to the quality of our video content, and the tremendous support we receive from across the industry
New York, NY (PRWEB) April 08, 2013
World Risk and Insurance News, Inc. (WRIN.tv), the online video news and information network for the global insurance community, announced that its viewership had increased 71% during the first quarter of 2013 - compared to video views in the fourth quarter of 2012.
Since introducing daily reports in January, WRIN.tv newscasts are even more timely and relevant for today's risk professional. The new format also provides the framework for additional video programming planned for the future.
The network is finding its audience, and the insurance audience is finding WRIN.tv. During the first three months of 2013, viewers came from over 120 countries, with the number of unique visitors increasing by 73%. Nearly 20% of viewers watch WRIN.tv on players embedded on partner websites; and 12.5% are watching on mobile devices. WRIN.tv also relies on social media to engage industry professionals. LinkedIn is now responsible for directing 17% of WRIN.tv's audience, and that number is growing.
"Our success is due to the quality of our video content, and the tremendous support we receive from across the industry," said WRIN.tv President John P. Greene. "We are grateful for our many content contributors, media partners and valued sponsors, and look forward to building new relationships as we expand our reach."
About World Risk and Insurance News, Inc.
World Risk and Insurance News (WRIN.tv) is the online video news and information network for the global insurance community. WRIN.tv works closely with news outlets, research firms, industry analysts, trade associations and subject matter experts around the globe to deliver relevant and valuable insights and special programs. WRIN.tv connects insurance professionals around the globe through its focused content available at the http://www.WRIN.tv website, integrated through social media.
More Information about WRIN.tv:
To find out more about World Risk and Insurance News, including advertising and sponsorship opportunities, or how to become an industry alliance partner, please contact Ken Simon at Ken.Simon@WRIN.tv
Please submit all press releases and story ideas for WRIN.tv to Media@WRIN.tv.