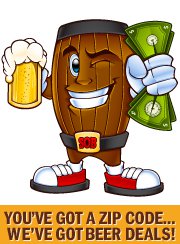 Anyone who has spent time in Alabama knows that the term 'Truck Stop Honey' can have an entirely different meaning!
Houston, TX (PRWEB) April 08, 2013
Back Forty Beer Company is the first to admit that Alabama is "widely seen as the wasteland for craft beer in America." As recently as 2008, it was illegal for Alabamians to produce beer with more than 6% ABV, operate a brewery tasting room, bottle in containers bigger than 16 ounces, or sell directly to the public. Founder Jason Wilson shares the trials and tribulations of starting a brewery under these conditions in an exclusive interview published at SaveOnBrew.com.
"It has certainly been a challenge," Wilson told SaveOnBrew. "But we knew that before we started. Some people see a tough legal environment as a barrier to entry, but we viewed it as an opportunity to have a front row seat in the development of a new industry in this State. As a fourth generation Alabamian, that was something I felt very strongly about."
He crafted beers that he felt would really appeal to a Southern audience. "Southerners have always held a very strong appreciation for artisan products and sustainable business practices; they just don't care much for the pomp and circumstance that come along with it," he explains.
"That's why we have so much fun naming our products. We like to laugh at ourselves and have fun with all of those stereotypes about the Deep South. The result is a sense of ownership by the customers who support our business…. For example, we use local wildflower honey in our award winning Truck Stop Honey Brown Ale. We named the beer 'Truck Stop Honey' because the beekeeper we were sourcing the local honey from primarily sold his product in truck stops throughout the State. But there's also an inside joke there for Southerners. Anyone who has spent time in Alabama knows that the term 'Truck Stop Honey' can have an entirely different meaning!"
In addition to Truck Stop Honey (Brown Ale), Back Forty Beer Co also sells Naked Pig (Pale Ale), Kudzu (Porter), and Freckle Belly (Pale Ale), in addition to several seasonal offerings. Wilson also discusses some of the strangest experiments they've done, funny feedback they receive in the tasting room, and what it's like to work within the beer brewing community.
The full interview can be found on the award-winning SaveOnBrew beer blog.
# # #
About SaveOnBrew.Com: Founded in 2010 to help thirsty beer drinkers across the United States find the lowest advertised prices for one of the world's most popular beverages.