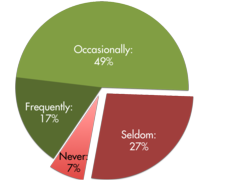 Traditional pay TV won't be going away anytime soon. But it probably won't ever be consumers' sole source for TV content again, either.
Boston, MA (PRWEB) April 09, 2013
Consumers do not feel compelled to choose between traditional pay TV or online sources of entertainment—instead, most consumers see online content as a complement to traditional TV, according to a new study titled "2013: What's TV Worth?" by Hub Entertainment Research.
The study of 1,754 TV viewers uncovers surprising factors in what drives consumers to watch content from one source instead of another. For example, only 3 percent of TV viewers with internet access have "cut the cord"—the same percentage as a year ago. But 73 percent say that they have watched TV or movies online at least once.
The results indicate that as online sources become more familiar, consumers are becoming adept at building their own TV-delivery bundles, which typically combine a traditional cable, satellite, or fiber-optic subscription with content from online sources.

Online viewing drives engagement with television. People who watch TV online—especially those who watch programs back-to-back, or marathon—have a higher number of favorite programs, which are defined as "shows they make a point never to miss." And half of online viewers say that they've discovered new shows online that they now watch live.
People who watch on several devices feel that they get more value from pay TV. People who watch pay TV content on at least two devices in addition to their television set are more likely to say that their pay TV subscription provides a good or excellent value: 68 percent, versus 45 percent among those who watch only on a TV set.
Mobile devices are changing the way some consumers define a valuable TV-watching experience. The majority of consumers (68 percent) who watch TV on their tablets do so at home. And a significant number of those respondents (23 percent) choose to watch on tablets because they prefer the experience of watching that way—even when they have access to a television.
In the future, the most successful providers will be those who cater to the new ways that people want to watch TV. Two-thirds of viewers in the study say that they marathon at least occasionally, and one in five say they do so frequently. What's more, viewers chose "features that make it easy to marathon" as the second-most-valuable attribute (out of 18 alternatives tested) that an online TV source could provide.
"Traditional pay TV won't be going away anytime soon. But it probably won't ever be consumers' sole source for TV content again, either," says Jon Giegengack, a partner at Hub. "The exciting conclusion from this study is that new devices and platforms have created specific opportunities for providers of all kinds—from traditional networks and MSOs, to premium channels, to digital distributors like Netflix or Hulu—to engage consumers and deliver value in a way that wasn't possible until now."
"In a world where TV content is accessible from more sources and on more devices than ever before, consumers no longer define the value of TV by how much they pay," says Peter Fondulas, a partner at Hub. "Providers who make it easy for consumers to watch what they want to watch in multiple ways and places will be able to win a greater share of viewership."
About this Research
"2013: What's TV Worth?" showcases the findings of an online survey of 1,754 U.S. consumers aged 16 to 64, who watch at least five hours of TV per week and have broadband access at home. The study was conducted in February 2013. Click here to download a free excerpt of the findings from Hub Entertainment Research.
About Hub Entertainment Research
Hub Entertainment Research is a market-research firm with deep expertise in television, movie, videogame, music, publishing, and sports—anywhere that entertainment and new technology overlap. In the television industry, Hub analysts work with networks, content producers, MSOs, and digital distributors. Our job is to help our clients understand the greatest risks and most-promising opportunities facing their companies and to reveal the clearest paths to success in a changing marketplace. For more information, please visit us at http://www.hubresearchllc.com.