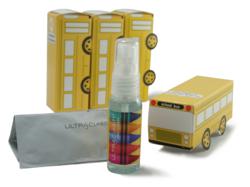 If you want children to take proper care of their glasses, make it fun. Kids love the Little Eyes Collection, and that means parents do, too.
Valley View, OH (PRWEB) April 08, 2013
With the new Ultra Clarity® Lens Care Towelette School Bus, the first stop is fun. Nine pre-moistened towelettes are all aboard the bright yellow school bus-shaped box that features pop-out wheels. It's a fun and easy way to engage youngsters in proper care of their eyewear.
The kid-size bus goes anywhere, so there's proper care in a school desk or locker, backpack or sports bag. It's a smart addition to the top of a dresser or bathroom countertop where it might get some play. The towelette bus will be offered to optical retailers in cases of 24.
Nanofilm's Ultra Clarity lens care formulas are preferred around the world for the advanced performance. They exceed every industry standard for effectiveness and safety on all lenses and coatings, including anti-reflective coatings. Dirt, oily fingerprints, and everyday grime wipe away easily, without smears or smudges.
"If you want children to take proper care of their glasses, make it fun," says Jodi Groh, Director of Marketing at Nanofilm. "Kids love the Little Eyes Collection of care products, and that means parents do, too."
The School Bus Towelettes are part of Nanofilm's Ultra Clarity Little Eyes Collection for kids. Other products in the line include:

The School Bus Lens Care Kit. It contains a 1-ounce Ultra Clarity spray with a colorful crayon label that can be customized with a practice name and telephone number, and it features a "This Belongs To" section where kids can add their name. The kit also includes microfiber cloth, and all elements are packaged in a fun school bus box.
The 1-oz Ultra Clarity spray. The crayon-design bottle can be customized with practice information and features an area for the child's name.
Information about the product and pricing is available online or inquiries can be directed to Nanofilm's Customer Service Team at 800-883-6266 or info(at)nanofilmtechnology(dot)com.
About Nanofilm: Nanofilm (http://www.nanofilmproducts.com), founded in 1985, is a global optical leader in lens care and coatings. Millions of people around the world use Nanofilm products, including Ultra Clarity®, Clarity Clean It™, Clarity Defog It™, Clarity EcoClens™ and other lens care products, as well as nanotechnology-enabled coatings.