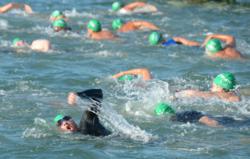 Miami, FL (PRWEB) April 08, 2013
FINIS athlete Luane Rowe, currently ranked amongst the top Open Water female swimmers in the world became the Swim Miami 2013 5K Women champion in a blazing 1 hours and 9 minutes. This only one day after Rowe shared her knowledge with event participants and held a fantastic swim clinic sponsored by FINIS on Friday afternoon. The swimmers practiced sighting, drafting, sprinting and more. The evening ended with a delicious pasta dinner enjoyed by more than 52 swimmers, their family members and friends.
The 8th annual Swim Miami at the Miami Yacht Club on Watson Island, an event known as the marathon of swimming hosted a 10K Swim, a 5K Swim, the Miami Mile, and the 800 meter swim.
Eight Hundred and Fifty Four (854) swimmers participated in one of the 10 most attractive open water settings in the world. The star studded cast of elite swimmers in attendance not only included Rowe, but also Ricardo Monasterio, a four time Olympic swimmer, who finished 5th overall in the 5K Swim. Swim Miami fielded a diverse and International pool of swimmers from Venezuela, Australia, Canada, Barbados, Mexico, Colombia and Argentina.
All 800m swimmers as well as family and children had the opportunity to walk through Jungle Island and look at South Florida's most unique and beautiful animals before they started their race at Jungle Island's La Playa. The Men's 800m Swim was won by 25-year old Joey Pedraza and the Female 800m Swim was one by Nova Southeastern University swimmer Sara Witkowski.
In the Men's Miami Mile Joey Pedraza repeated as champion in a time of 21:41. He was one of the only swimmers who competed in two races. The women's Miami Mile winner was Erin Black arriving in a time of 25:40.
In an exciting 5k Swim, three laps around the course, Blake Woodrow was crowned champion.
17 year old Ronald Santos proved that he has a future in Open Water Swimming by winning the Men's 10K swim in an impressive time of 2 hours and 30 minutes. Jana Mangimelli from Miami's own Gulliver Swim Team won the Women's 10K swim in a time 2 hours and 41 minutes.
For complete results, visit the event website at SwimMiami.net. Next year's race promises to be more exciting and organizers guarantee new additions to make the event equally as enjoyable for participants as well as spectators. Registration for Swim Miami 2014 will be available online shortly.
2014 Overall Results:
10K Women
1. Jana Mangimelli
2. Ginger L Tompkins
3. Ann Von Spiegelfel
10K Men
1. Ronald Santos
2. William Leonard
3. Roger Capote
5K Women
1. Luane Rowe
2. Emily Noeske
3. Carolyn Lee
5K Men
1. Blake O Woodrow
2. Rodrigo Caballero
3. Andreas Rintel
Mile Women
1. Erin Balck
2. Alex Zatylny
3. Emilienne Allen
Mile Men
1. Joey Pedraza
2. Ramses Rodriguez
3. Ryan Capote
800m Women
1. Sara Witkowski
2. Stephanie Shober
3. Kelly Abner
800m Male
1. Joey Pedraza
2. Jonathan Key
3. Darren Rubenchik
##