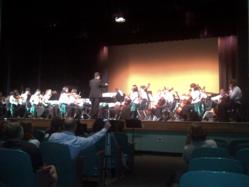 Hollywood, Florida (PRWEB) April 06, 2013
Into Action Treatment, a south Florida coed drug rehab center, visited the The Art and Culture Center in Hollywood, Florida, today to watch the Florida Youth Orchestra Happy Concert series. The concert was part of the weekend activities at the 1 year old drug rehab center in South Florida. The center puts a strong emphasis on enjoying life in recovery from drug addiction and part of this includes weekend trips to enjoy art and cultural experiences. The founder of the center is Andrey Rossin and he puts a big emphasis on the arts. Each week the clients at his addiction treatment center get to enjoy a new fun experience at a local art exhibit or performance. This weekend they enjoyed the Florida Youth Orchestra and got to see young musicians perform classical music.
Andrey Rossin has created a very unique experience for his clients at the alcohol and drug treatment center, located in Boynton Beach, Florida. "We love exposing our clients to new experiences which help them to see it is possible to enjoy life in recovery without drugs or alcohol. Most of our clients have never been to an orchestra, which is a great new thing for them to experience. All of our clients enjoyed the concert and we will definitely be back to enjoy more shows here at the Art and Culture Center here in Hollywood."
Into Action Treatment is a small 24 bed coed Florida drug rehab center located in Boynton Beach. Into Action is a very unique center, which focuses on long term recovery for addicts and alcoholics. Most treatment centers in the industry are 28 days, however Into Action is a minimum of 45 days, while most clients who complete the program end up staying over 90 days, even if their insurance money has run out. For more information on Into Action Treatment and how they can help those affected with addiction, visit their website at http://www.intoactiontreatment.com, or call their 24 hour hotline at 1-855-933-6732 for free addiction advice and treatment options.