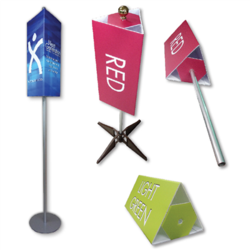 A Pole Sign 360 with 15"x30" graphics and 9' pole weighs less than 10lbs...It can be easily set up by one person with no tools and is one of the best kept secrets in trade show graphics world.

Chicago, IL (PRWEB) April 20, 2013
Exhibitors around the world are always looking for innovative display graphics that stand out from the crowd, grab attention, and help them attract customers. Of course, these products need to be portable, lightweight, and easy to set up. In addition to popular display options such as table cloth, retractable banners, and hop-up display walls, Sunrise Digital just introduced the Pole Sign 360, a self-standing display tower with 360º visibility.
Pole Sign 360 is made of super lightweight coroplast, one of the most economical, resilient, and durable signage materials around. The triangular shape allows three graphics to be displayed simultaneously, giving the sign excellent visibility from every angle. Telescopic poles can be easily configured for display heights of 8', 9', 12', or even 15', towering over the competition's signage, and can be seen from far away.
The Pole Sign 360 was designed with flexibility to fit the exhibitor's needs, whether it's a mini display with 6"x8" graphic, a large tower of 32"x48", or any size in between. Two types of poles are available - an 8ft tall metal pole for permanent displays, or a tube and wire system emphasizing portability. Customers can also use their existing poles for display.
The display graphic is scored and folded to a compact size for easy transportation, and assembles easily using pre-installed velcro strips, no tools required. Portable poles can be connected to form any length, with lightweight wires holding the pole upright. A typical pole sign with 15"x30" graphic size and 9' pole weigh less than 10lbs total. One person can set it up in just a few minutes. It's also among one of the most economical displays around.
The Pole Sign 360 graphics are printed on Sunrise's two UV flatbed presses using NASA-grade magnetic linear transport. Unlike less expensive transports such as vacuum belt, magnetic linear motors deliver ink droplets on the substrate using up to 48 printheads, eliminating banding and other printing artifacts caused by mechanical vibration. High powered UV lamps cures the ink immediately after printing, virtually eliminating ink-spreading and bleeding.
Being a G7 Qualified Master Printer, Sunrise adheres to the highest standards in color accuracy and consistency. Presses are calibrated daily, sometimes multiple times a day, using digital spectrophotometers to ensure the most consistent colors. And because the company employs an all digital workflow, setup costs are minimal, lowering the cost for clients.
The Pole Sign 360 can be purchased from the company's web-to-print portal at ePrint123.com. A typical 11"x24" Pole Sign 360 can be produced for as low as $34 at quantities over 100, among the lowest price display options on the market. 9' tube and wire poles are available at $50 each.
"A Pole Sign 360 with 15"x33" graphics and 9' pole weighs less than 10lbs total..." says Jimmy Sun, the company's president, "It can be easily set up by one person with no tools and is one of the best kept secrets in trade show graphics world."
About Sunrise Digital
Sunrise Digital is an Inc. 5000 company established in 1988 and employs the most advanced equipment and technology, such as G7-certified HP Indigo and UV flatbed presses, laser engraving, and digital die-cutting, to create best-in-class color printing, short-run packaging, P.O.P. retail displays, and signage products. A privately-owned enterprise, the company is based in Chicago and sells products worldwide.