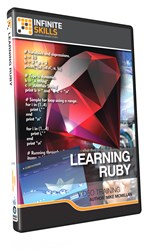 Learn Ruby Programming At Your Own Speed
(PRWEB) April 08, 2013
Software training firm InfiniteSkills Inc. this week released its "Ruby Programming Training Video," a course designed to teach beginning and experienced programmers to work in the user-friendly language.
Developed in 1995, Ruby is a dynamic, reflective, object-oriented programming language suited for general purpose application. It employs minimal syntax and was designed with the intent of creating a fun and easy-to-use experience for programmers.
Ruby is a scripting language that employs features of several types of languages, making it a powerful option in web development applications using the popular web application framework Ruby on Rails.
With InfiniteSkills' Ruby Programming Training Video, programmers experienced with other languages can expect to be writing code in Ruby in a matter of hours, while new programmers will enjoy a clear and easy-to-follow introduction to Ruby programming that allows them to learn at their own pace and will serve as a continual reference as they integrate Ruby into a workflow.
Ruby Programming Training Video - Tutorial DVD
Course author and university professor Mike McMillan, is an information technology expert with more than twenty years of experience in computer programming, and more than ten years in computer science instruction. McMillan's primary interest is in scripting languages such as Ruby, and how they can be used to speed up the development process.
McMillan's hands-on, common sense teaching style will help students build a strong foundation in Ruby programming. He breaks down complex topics into manageable tasks, explaining overarching principles of Ruby programming as users learn to carry out fundamental tasks.
The course moves from an explanation of how Ruby handles the basic programming elements of data and variables into an exploration of arithmetic and string expressions, demonstrating the functionality of operators and expressions before moving on to "if" statements and loops.
McMillan continues to explore Ruby fundamentals, introducing topics such as working with classes and objects, inheritance, modules, and basic input and output, building up to a chapter exploring GUI programming in Ruby.
"Ruby uses features of object oriented, imperative, and functional language programming," McMillan explains. "All of those together make Ruby a very powerful language, and one that can be a lot of fun to work with."
Free demo videos and a full list of course contents can be found on the Ruby Programming Training Video page of the InfiniteSkills website:
http://www.infiniteskills.com/training/learning-ruby.html
InfiniteSkills offers its Ruby Programming Training Video either as a DVD or a direct download from the company website at a retail price of $99.95. All InfiniteSkills titles and formats are compatible with Mac and Windows operating systems. Shipping is available around the globe. Additionally, InfiniteSkills tutorials are supported by project files which correspond to examples in the videos, allowing users to work alongside experienced instructors right on their computer or iPad.
About InfiniteSkills Inc.
A leader in the field of software training, InfiniteSkills strives to offer the highest quality training available at an affordable cost. InfiniteSkills tutorials are task-oriented instructional videos, teaching complex skills by providing hands-on examples and guiding users as they carry out critical objectives. InfiniteSkills offers a comprehensive range of software titles available as DVDs, digital downloads, and in iPad editions, keeping with company aim of delivering professional training to customers anywhere they want to learn.