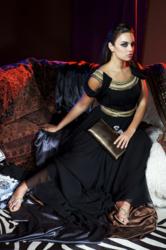 Experience the world of Hollywood Glamour and luxurious Italian Style
that is NICOLI
Dubai, United Arab Emirates (PRWEB) April 13, 2013
The glamorous world of NICOLI, home to a world class collection of crystal embellished shoes and handbags, is proud to announce that their exquisite limited edition Shoe and Handbag Collections will now be available worldwide through the launch of their flagship online boutique, nicolishoes.com
 
Nicolishoes.com is an interactive luxury shoe and handbag shopping boutique which brings the high-end in-store NICOLI experience to its online customers around the globe. NICOLI's flagship online boutique nicolishoes.com offers its shoppers the chance to not only browse and buy the latest limited edition NICOLI Shoe and Handbag Collections via multiple payment options, but also allows its customers to buy the perfect gift every time by offering NICOLI Gift Vouchers which can be sent to friends and redeemed online and in stores throughout the GCC.
Steeped in glamour, famed for fashionable yet timeless products and bequeathed to future generations, beautifully designed bag shapes and carefully crafted heel heights form the foundation of the NICOLI Shoe and Handbag Collections. Only the finest fabrics and materials are sourced and used, while many of NICOLI's innovative designs are generously embellished with twinkling diamanté crystals from Swarovski and Preciosa. Nicolishoes.com showcases an array of exquisitely handcrafted, limited edition collections which are updated monthly, providing every shoe and bag aficionado from around the world a taste of affordable luxury that is sure to satisfy her never ending thirst for fashion.
The site also encourages its visitors to engage and keep up-to-date with not only the latest news and trends from the brand, but from fashion trends around the globe through their News & Trends section which, along with the beautiful Shoe and Handbag imagery can be easily shared with friends through Facebook, Twitter, Google +,Pinterest and Tumbler and that is just the beginning!
The exclusive NICOLI brand was founded in 2004 by Khurram Rafique and is proud to be an integral part of His Highness Sheikh Mohammad bin Rashid Al Maktoum's vision for the United Arab Emirates to lead the world in the global luxury goods market. Today, NICOLI, through their dedicated design and manufacturing team bring to the world of retail fashion a unique meld that combines Swarovski and Precoisa crystals with the finest traditional and latest materials. Renowned for their unique, hand crafted, high-quality collection of contemporary and innovative shoe styles and handbag designs NICOLI continues to inspire and enchant customers with their constantly evolving and innovative collections which are replenished with new limited edition styles monthly. This not only allows NICOLI to stay on trend, but gives customers a feeling of constant innovation and exclusivity.
NICOLI offers a wide range of crystal embellished Shoe and Handbag styles, from Wedges to Ballerina Shoes, Wedding Shoes to Flats and Sandals, exquisite Swarovski embellished High Heels to glamorous hand crafted evening Handbags, Purses and Clutches - all of which can be admired and bought online at nicolishoes.com and throughout the GCC at NICOLI Boutiques.