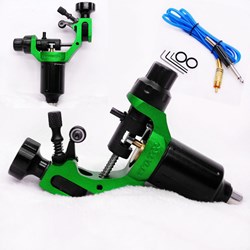 (PRWEB) April 07, 2013
Recently, TattoosFactoryOutlet has proudly launched its tattoo machine kits promotion to show appreciation to all clients. Now, all customers can get a discount, up to 35% off, when shopping professional tattoo machines online at TattoosFactoryOutlet.com.
The tattoo kits from TattoosFactoryOutlet cover a wide range of choices, including tattoo kits, tattoo machines, tattoo inks, tattoo grips, tattoo needles, tattoo power supplies, and etc. Moreover, people can find many hot products in the market here as well, such as coil tattoo machines, tattoo gun kits, and so on.
Mr. Zheng, a spokesman for TattoosFactoryOutlet, said, "Our tattoo machines have a good market performance, and have greatly stimulated our company's business growth in the past few months. Now, we are launching the tattoo kits promotion to show our appreciation to all our customers. Thank you very much!"
Cheap tattoo kits have been very popular in the today's economic atmosphere, and people would not spend money like before. TattoosFactoryOutlet has carefully studied customers' psychology, and can always give the market a stunning impression for its premium quality and trendy products at affordable prices.
About TattoosFactoryOutlet.com
Founded in 2008, TattoosFactoryOutlet.com is a well-known tattoo machine manufacturer and wholesaler, offering hundreds of premium quality tattoo supplies. With flexible marketing strategy, trendy styles, and affordable prices, the company has become a leading brand in the tattoo machine industry.
For more details, please visit http://www.tattoosfactoryoutlet.com