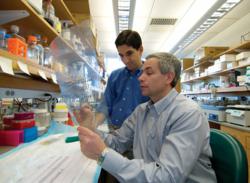 "The motivation for the creation of this collaborative research project is the realization that completely new strategies are needed if we are to have curative therapies for all childhood cancers," said John Maris, M.D.
Philadelphia and Washington, D.C. (PRWEB) April 07, 2013
April 7, 2013 – A physician-researcher from The Children's Hospital of Philadelphia will lead the first-ever pediatric "Dream Team" solely focused on creating new treatments for the most challenging childhood cancers. Stand Up to Cancer (SU2C) and the St. Baldrick's Foundation, along with the American Association for Cancer Research (AACR), SU2C's scientific partner, announced this Dream Team today during a press conference at the AACR Annual Meeting 2013 in Washington, D.C.
John M. Maris, M.D., director of the Center for Childhood Cancer Research at The Children's Hospital of Philadelphia, and professor of Pediatrics at the Perelman School of Medicine at the University of Pennsylvania, will lead the pediatric Dream Team, which will have $14.5 million in funding over 4 years, provided by SUC2 and St. Baldrick's. Crystal L. Mackall, M.D., chief of the Pediatric Oncology Branch of the National Cancer Institute (NCI), is the co-leader of the Dream Team.
The title of the research project, "Immunogenomics to Create New Therapies for High-Risk Childhood Cancers," reflects the melding of two powerful disciplines that have historically functioned independently: immunotherapeutics and genomics. The goal is to rapidly translate promising basic research into transformative, targeted treatments that will improve cure rates in children's cancer.
"The motivation for the creation of this collaborative research project is the realization that completely new strategies are needed if we are to have curative therapies for all childhood cancers," said Maris. "Our Team hopes to rapidly develop more precise and effective treatments based on the unique characteristics of each child's tumor, here focusing on the genetic changes that make the cancer cells different from the rest of the child's body."
Immunotherapeutics focuses on developing treatments that harness the body's own immune system to fight disease. Genomics, the field that analyzes the broad landscape and fine details of the genetic code in DNA, reveals potential targets for disease treatments.
At today's press conference, Emily (Emma) Whitehead and her parents Kari and Tom provided dramatic evidence of the power of these scientific tools to treat cancer. Emily, age 7, had a dramatic recovery from a relapsed form of childhood leukemia following an experimental treatment at The Children's Hospital of Philadelphia (CHOP) which used her own immune cells. Researchers from CHOP and the University of Pennsylvania genetically engineered Emily's T cells to find and destroy leukemia cells. Emily, who was featured in news stories last December, remains healthy and cancer-free, nearly a year after receiving the highly innovative therapy.
The new pediatric Dream Team addresses a crucial need in treating children's cancers. After dramatic progress throughout the last half of the 20th century, cure rates for pediatric cancers plateaued in the 1990s. "Very few new therapies have been developed for pediatric cancer in the past 20 years," said Maris. In addition, he added, current therapies for childhood cancers often have severe side effects that reduce quality of life for survivors who enter adulthood.
Hence, there is a need for new classes of treatments to improve both survival and quality of life. The researchers on the new Dream Team, said Maris, have deep expertise in the most lethal pediatric cancers, and will combine their experience and commitment to a sustained effort improve cure rates.
Realizing the ambitious Dream Team efforts, stresses Maris, will rely on the talents of many collaborators. The researchers represent seven institutions: CHOP, NCI, the Baylor College of Medicine, Seattle Children's Hospital, the University of British Columbia, the Hospital for Sick Children in Toronto, and the University of Wisconsin.
The Dream Team also includes important patient advocates: Kelly Cotter, a childhood cancer survivor; Jay Scott and Liz Scott, of the Alex's Lemonade Stand Foundation; Patrick Sullivan, of the Team Finn Foundation; and Lisa Tichenor and Mac Tichenor, of the What Would Willy Want Foundation (Quad W Foundation).
Maris draws on the internationally prominent expertise of Stephan A. Grupp, M.D., Ph.D., and Tom Curran, Ph.D., to lead the CHOP-based research programs. Grupp has developed the first highly effective childhood cancer immunotherapy, in collaboration with Carl H. June, M.D., of the Perelman School of Medicine at the University of Pennsylvania. It was Grupp's efforts that resulted in Emily Whitehead's remarkable recovery from her lethal leukemia and her attendance at the press conference today.
"We were excited to experience this great outcome with Emily," said Grupp, who added, "Although this is an early result, it offers the promise of a significant advance against this high-risk childhood leukemia. Our goal on the Dream Team is to emulate this success in treating other pediatric cancers."
Oncology researcher Tom Curran is a member of the Institute of Medicine, and was recently named to the AACR's inaugural class of Fellows of the AACR Academy. He will lead the brain tumor discovery efforts at CHOP, interacting closely with Maris's own research program in neuroblastoma. CHOP will serve as the central hub for data analysis and new therapy development across the Dream Team consortium. The full list of Dream Team leaders and investigators at CHOP can be viewed here: bit.ly/CHOPDreamTeam
The Dream Team will focus on the four most deadly pediatric cancers: malignant brain tumors, high-risk leukemias (such as the type of acute lymphoblastic leukemia that Emily Whitehead had), neuroblastomas (which affect the peripheral nervous system) and sarcomas (other tumors of bone and other tissue).
Recent research in genomics, said Maris, has shown that pediatric cancers are fundamentally different from adult cancers. Children's cancers are less likely to arise due to recurring mutations that can be countered with small molecule drugs. Instead, this Dream Team will exploit the unique feature of molecules on cell surfaces of childhood cancer cells that are not present on normal cells, and thus offer targets for treatments employing bioengineered agents working through the immune system.
In transforming this scientific knowledge into treatments, the Dream Team members will take a three-step approach. First, they will discover cell-surface molecules offering promising targets in high-risk children's cancers. Secondly, they will create immunotherapy-based proteins to attack those molecules. The third step is to carry out multi-institutional clinical trials of these treatments in children.
"The success of the program will ultimately be judged by the number of lives saved through our efforts," concluded Maris.
About The Children's Hospital of Philadelphia: The Children's Hospital of Philadelphia was founded in 1855 as the nation's first pediatric hospital. Through its long-standing commitment to providing exceptional patient care, training new generations of pediatric healthcare professionals and pioneering major research initiatives, Children's Hospital has fostered many discoveries that have benefited children worldwide. Its pediatric research program is among the largest in the country, ranking third in National Institutes of Health funding. In addition, its unique family-centered care and public service programs have brought the 516-bed hospital recognition as a leading advocate for children and adolescents. For more information, visit http://www.chop.edu.