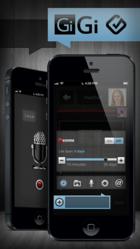 With GiGi, you always have control of your files and messages, even after they have been sent to another user. The robust interface allows app owners to set the life span of files and texts or delete them automatically...
(PRWEB) April 16, 2013
Nowadays, phones are more valuable than the combined contents of wallets, purses, and confidential files. Mobile devices have become a safety deposit box littered with social security numbers, credit card info, and top secret files and conversations with coworkers, clients, and friends. Where thieves used to focus their attention on unprotected PCs and car windows, smartphones have become the latest treasure trove overflowing with forbidden fruit just ripe for the picking. In fact, according to MicroTrax, 113 cell phones are lost or stolen every minute in the U.S.
Individuals are often so concerned with their own phones that they fail to ponder the effects of a client or friend losing their cell phone to a coat room bandit. Just think of all the emails, mp3s, exclusive videos, private files, and databases that would soon become a thief's playground.
This is where the revolutionary GiGi mobile app straps on its tamper-resistant security suit to save the day. The GiGi (Get It! Got It! Gone!) environment consists of iOS and Android apps and a Mac and PC compatible web portal that allows users to securely share PDFs, movies, mp3s, Microsoft Office documents, emails, and more. Using a secure network, app owners can instantly communicate and send files to multiple GiGi users at once and devise custom security settings for each message or shared file.
One of the biggest fears associated with cell phone theft is that an unknown individual now has access to all types of valuable information. With GiGi, users always have control of their files and messages, even after they have been sent to another contact. The robust interface allows app owners to set the life span of files and texts or delete them automatically via the Gi-Retract Protocol feature. With a simple tap on the touch screen, GiGi will override a message's specified life span and the file vanishes from the phones of both the sender and recipient quicker than a "Mission: Impossible" audio cassette.
GiGi also gives users the power to prevent recipients from forwarding messages. Members of the film and music industries, doctors, and lawyers can rest easy knowing that a new movie trailer, latest audio mix, patient information, and legal documents are secure. Leaks are common fair on the web and they can cost companies millions in lost revenue and legal fees. It's way too easy to click the Forward button these days and, unfortunately, tomorrow's big screen blockbuster or smash radio hit may be getting downloaded today for free.
GiGi also comes equipped with several locking features including a pattern swipe, phone password, and security question that make it nearly impossible for unapproved users to gain access to the device.
In the event that another GiGi user does attempt to log in to a GiGi account that is not their own, GiGi's Intruder Report records the date and time of intrusion, the code the intruder attempted to log in with, and the current location (latitude and longitude) of the intruder on a map.
Although security is the name of the game, GiGi is far more than a tightly guarded vault. Its streamlined User Interface incorporates modern "work space" layouts which allow GiGi owners to access their contacts, create groups, and communicate quicker than ever before.
Sending an mp3 file or full length videos via current phone methods is impossible without using an email program. GiGi lets users perform all their communication and file sharing from the same hub. There's no need to venture into Gmail or Outlook to send the latest print ad or movie script. It also allows users to record audio and video from the interface without switching over to the mobile device's home screen.
Ben Parris, Partner and Principal of GiGi LLC and Force Interactive, was enthusiastic about GiGi's game changing potential. "GiGi's environment is structured to be able to share files quickly with other users (or groups of users) while accompanied with dialog if necessary," noted Parris. "It is also intuitive enough to be fully utilized by novice users while more "tech savvy" users will appreciate its vast number of customization options. Great lengths were taken to provide a User Interface that was not only innovative, but user friendly as well. It is our firm belief that anyone who shares files between their smartphone, tablet, or personal computer can benefit from GiGi."
Securing valuable information should be a high priority. As technology continues to expand and more private information finds its way onto mobile devices, it becomes critical that mobile device users take all the steps necessary to keep this data safe. GiGi's intuitive interface allows users to quickly share emails, texts, and files while also keeping these communication streams invisible to the unwanted eyes and ears lurking in the shadows. Get it! Got it! Gone!
GiGi is currently available in the App Store and the Google Play Store as a free trial.
About Force Interactive & GiGi LLC
GiGi (Get It? Got It! Gone...) is a revolutionary product that allows users to securely communicate with and share files with others. It is co-developed by GiGi LLC and Force Interactive, two companies consumed with the development and delivery of innovative technology based products that better today's society.