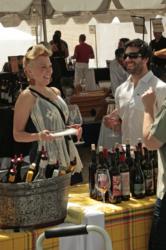 We think you'll see that for a bunch of farmers dedicated to sustainability and nurturing the earth, we sure know how to throw one heck of a party!
Paso Robles, CA (PRWEB) April 09, 2013
Tickets are going fast for all the events of the 7th Annual Earth Day Food & Wine Festival being held from Friday, April 19 through Sunday, April 21.
The entire weekend kicks off on Friday afternoon, April 19, with an exclusive tasting and tour of Saxum Vineyards in Paso Robles, a family-owned winery that received a perfect 100 score for one of its vintages from esteemed wine critic Robert Parker. Attendance to this special event is limited to 12, and will also include a three-course al fresco lunch from Thomas Hill Organics.
On Friday evening, Halter Ranch Vineyard will be the site of another exclusive event when Chef Tom Fundaro of Villa Creek Restaurant teams up with Winemaker Kevin Sass and the rest of the Halter Ranch crew for a "Farm to Fork Dinner and Tour." See the highlights of this historic, sustainably farmed 2000-acre ranch, then sit down to a multi-course, family-style dinner and rub elbows with some of the local farmers and ranchers who will be in attendance as well.
The main event on Saturday, April 20 at Pomar Junction Winery in Templeton will feature gourmet food, award-winning wines, live and silent auctions, and live music to get your toes tappin'. In addition, there will be demonstrations of everything from falconery, to solar power, to drought-tolerate landscaping. As an earth-friendly event, the entire day is expected to generate less than 2 pounds of landfill-bound trash.
On Sunday, April 21, the inaugural "SIP and Sliders Progressive Brunch" unfolds at four sustainably farmed Edna Valley wineries: Tolosa Winery, Chamisal Winery, Wolff Vineyards, and Claiborne & Churchill Winery. Join the winemakers of these award-winning labels for a tour of their SIP™ certified facilities, then enjoy gourmet sliders at each winery from one of these favorite local chefs: Russ Thomas of Two Cooks Catering, Maegen Loring of Lido, Anna Andriese of Haute Skillet, and Gretchen LeMiere of In Good Taste and Taste Catering & Eatery.
Several other activities will be happening the weekend of the Earth Day Food & Wine Festival as well. On Friday evening, attend "Wine Savvy 101" to learn the ins and outs of wine tasting and appreciation, or dine at Pomar Junction's private winemaker dinner. On Saturday, browse through the Templeton Farmer's Market and buy some native and drought-tolerate plants from the booth of the local Resource Conservation District, or head out to Windrose Farms on both Saturday and Sunday for their annual Earth Day Open House and Plant Sale. Sunday also offers a "Coffee and Rides" event starting at Dark Nectar Coffee Roasters in Templeton, plus a Farmer's Brunch Sampler at nearby Nature's Touch. In addition, your Earth Day Food & Wine Festival wristband will get you a Sunday discount at Clayhouse Wines in Paso Robles.
Information about all these events is available at earthdayfoodandwine.com or by calling (805) 466-2288. All proceeds from the main Earth Day Food & Wine Festival events support research, demonstration, and farm worker outreach programs of the Vineyard Team, a 501(c)3 non-profit organization dedicated to sustainable winegrowing since 1994.