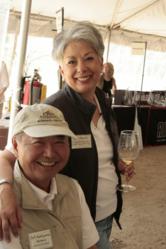 The Earth Day Food & Wine Festival has already established itself as one of the premiere events celebrating local food, and this year, we're raising the bar even further by highlighting the gluten free fare that our food folks are fashioning!
Paso Robles, CA (PRWEB) April 15, 2013
Gluten is an increasing dietary concern, but attendees at the 7th Annual Earth Day Food & Wine Festival will have an easier time navigating their food choices thanks to several gluten-free items available at this year's main event on April 20 at Pomar Junction Winery in Templeton.
From soups to salads, oysters to olive oil, roasted veggies to artisan desserts, the list of gluten-free options that will be served at the Saturday afternoon event continues to grow. Currently, the lineup includes fare from AJ Soups, BeeWench Farm, Carriage Vineyards, Fig Good Food, Gardens of Avila, the General Store, Leo Leo Gelato, Nature's Touch, Negranti Dairy, SeaVenture Hotel, and baker Maurica Zimmerman.
As Chris Dillow of Fig Good Food in Atascadero explained, "though we don't have a 'gluten-free' heading at our restaurant because we love making bread and pasta everyday from scratch, it's easy and tasty to add a bunch of gluten-free items to our menu choices. The Earth Day Food & Wine Festival will provide a venue to show off our favorite gluten-free item as of yet -- Spicy Roasted Vegetables with Squash, Cauliflower, Yams, Parsnips, and onions."
Tickets for the main event of the 2013 Earth Day Food & Wine Festival are available at earthdayfoodandwine.com or by calling 805.466.2288. General admission pricing starts at $75; premiere admission (which includes early entry at 1 p.m. and an event goody bag) starts at $115.
All proceeds from the Earth Day Food & Wine Festival support research, demonstration, and farm worker outreach programs of the Vineyard Team, a 501(c)3 non-profit organization dedicated to sustainable winegrowing since 1994.