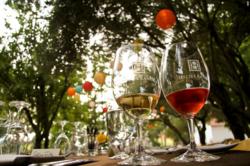 Paso Robles, CA (PRWEB) April 11, 2013
An intimate "Farm to Fork Dinner and Tour" will kick off the 7th Annual Earth Day Food & Wine Festival. Held at scenic Halter Ranch Vineyard in Paso Robles on April 19, this event will feature award-winning wines, gourmet fare and the chance to meet several local farmers and ranchers.
Winemaker Kevin Sass will be your host for this exclusive event, as he and the rest of the Halter Ranch crew take you on a tour of this historic property. A working ranch since the 1880s, the scenic grounds are also home to a restored Victorian farm house, a covered bridge, and one of the largest Coast Live Oak trees on record. The ranch's 2000 acres are all sustainably farmed, and the vineyard was one of the first applicants in the SIP™ program to attain certification.
After the tour, guests – including several local farmers and ranchers – will be treated to a multi-course, family-style dinner prepared by Chef Tom Fundaro of Villa Creek Restaurant in Paso Robles. Fundaro has always brought a farm-to-fork sensibility to his cuisine, and he revels in being able to showcase the quality ingredients being produced on the Central Coast. Each course will be paired with award-winning Halter Ranch wines personally selected by Sass.
Seating is very limited for this event so as to maintain its intimate nature. Tickets are available at earthdayfoodandwine.com or by calling 805.466.2288. All proceeds from the Earth Day Food & Wine Festival events support research, demonstration, and farm worker outreach programs of the Vineyard Team, a 501(c)3 non-profit organization dedicated to sustainable winegrowing since 1994.